Lee blossoms thanks to horticulture scholarship
Published

Monday 17 Aug 2020
A Myerscough College horticulture apprentice has been awarded a scholarship to continue in his chosen career path.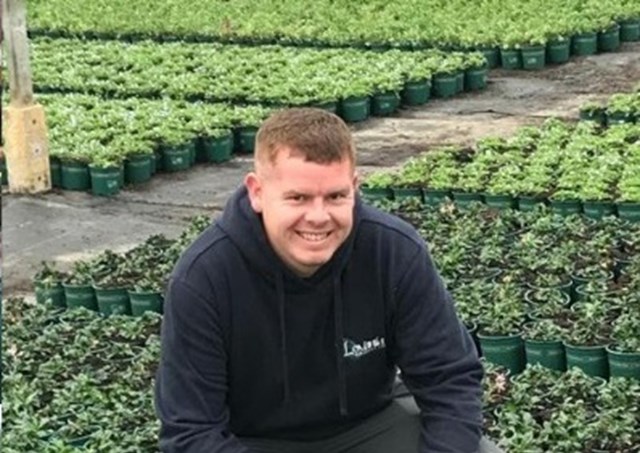 Lee Holmes from Southport, Merseyside, is studying towards a Production Horticulture Level 3 apprenticeship at Myerscough College while working as a Grower at Lovania Nurseries. He receives a Student Scholarship of £1,000 to support his studies.
The money has been awarded by the David Colegrave Foundation, a charity who support the development of the ornamental horticultural industry in the UK by offering scholarships to those who are set on a career in the profession.
Lee's interest lies in production of alpines from young plants to establish saleable plants. He says: "I am absolutely thrilled to have received a scholarship.
''I have been a grower now for nearly 10 years and have completed numerous training courses. I feel it's helping me develop as a horticulturist and the extra support I have received from the David Colegrave Foundation is greatly appreciated."
The David Colegrave Foundation (DCF) is a registered charity supporting the development of students studying horticulture in the UK. It champion careers in commercial, production or retail ornamental horticulture by offering scholarships to these future horticulturists.
David Colegrave was one of Britain's leading seedsmen, founding the UK's largest ornamental seed company, Colegrave Seeds (now Ball Colegrave). During his career, Colegrave took a keen interest in supporting and promoting the development of young people, and it was with this in mind that the Foundation was launched shortly after his death.
DCF Chairman, Jeff Colegrave, comments: "We are delighted to be receiving more and more scholarship applications every year. This past season we saw entries from horticultural students studying at 27 colleges and universities across the UK.
''We strive to select only the most deserving of candidates as our winners based on their personal needs and their passion for the industry. We believe our latest winners will bring a positive contribution to horticulture." 
by Dave Salmon
DSalmon@myerscough.ac.uk