#GroundsWeek recognises the contribution to the turf care sector
Published

Monday 20 March
It's #GroundsWeek, an annual awareness campaign that celebrates the incredible work that grounds volunteers and professionals undertake to make sport possible.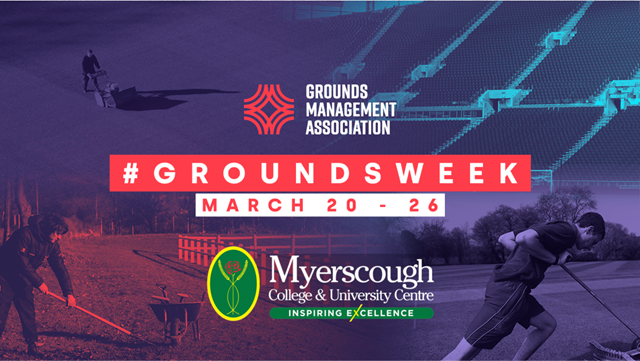 Research carried out by the Grounds Maintenance Association, highlights that the industry is in need of new recruits to join the sector. Currently, 40% of the workforce is over 50 years-old and, without an influx of new recruits, this could result in a significant employment gap within 5 years.
Sport simply could not take place without the contribution of grounds management and, without quality grass pitches, not only will our nation's health and local communities suffer, but so will our talent offering when it comes to professional teams and leagues.
If improvements were made to existing grass pitches, almost 1,400,000 (1,376,252) more children could play rugby or football every week and 489,859 more could play cricket every season.
That means 4,000,000 more children's football matches could happen every year on existing pitches – this is why #GroundsWeek and encouraging more people to join the sector is so important.
Myerscough College enjoys a fantastic reputation across the UK and Europe as one of the leading providers of sportsturf education. Over the years, ex-students from the programmes have been found at some of the top sporting venues across the country including Wimbledon, the Santiago Bernabeu in Madrid and St Andrews.
Find out more about the range of study options at further education, degree level and apprenticeships
Earlier this year, Myerscough College is delighted to launch a Greenkeeping Apprenticeship Academy in partnership with prestigious operator, Marriott Golf.
Myerscough College has recently acquired a new fleet of state-of-the-art sportsturf machinery.
The college was looking to replace its old fleet of machinery with equipment that was up to the task of meeting the establishment's high demands.
A Myerscough College apprentice has been named the best student greenkeeper in the country after he scooped a prestigious national industry award.
James Gaskell has been named winner of the 2022 Toro Student Greenkeeper of the Year, a national contest hosted by the British and International Golf Greenkeepers Association, BIGGA.
A leading industry magazine has named Myerscough College as one of the most influential bodies in the sportsturf industry. The Turf Business Turf Top Influencer Award recognises the industry's most influential figures who possess an outstanding level of knowledge, experience and skillset within their specific field of expertise.
Many students go on to make big name's for themselves in the sportsturf industry after completing their qualifications with Myerscough.
One of them is Dan Hill, Assistant Groundsman at Harlequins – who play in the Premiership, the top level of English rugby union.