Assistant Principal hails great year ahead at Myerscough College
Published

Wednesday 22 Sep 2021
With the new academic year now underway, our Assistant Principal Further Education has welcomed all learners to their programmes and has been outlining some of the developments that lie ahead.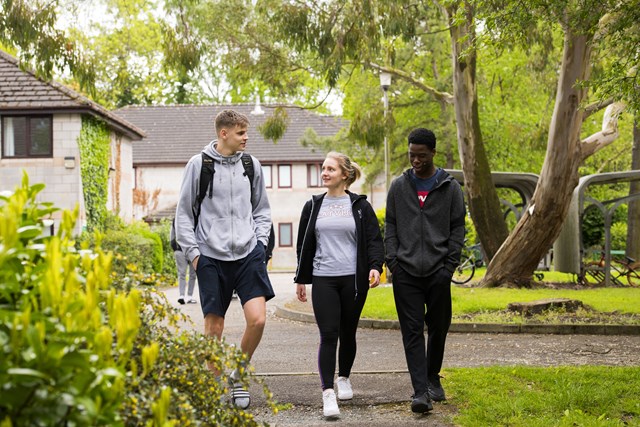 After several years of investment, and the recent completion of a £35 million capital expenditure programme, Myerscough is preparing for another busy and exciting year, with student achievement and continuous improvement at the heart of everything the College does.
He says: ''We have a proud history over 126 years and counting, providing excellent learning opportunities in our specialist areas of land-based education, sports, science and engineering.
''We pride ourselves on offering a warm and friendly environment, ensuring all students receive the best vocational and academic education and training in the North West. We are proud to be one of the top vocational institutions in the country, so students are in good hands!
''Our aim is for all students to be successful and our academic results reflect this each year. Coupled with this, we want all students to benefit from a very supportive, safe and enriching environment that can bring out the best in each and every one of them, enabling them to successfully progress to their chosen career,
''Your time at Myerscough is part of your lifelong learning and part of a lifetime relationship between you and our Further Education College and University Centre. We aim to make the time you spend with us enjoyable, memorable and fulfilling and will provide you with an important stepping-stone to the achievement of your life goals. Wherever you go and whatever you do, we hope that you will become an inspiration for others and that you will always take a bit of Myerscough with you.
''We believe that students and staff form a single academic community working together to achieve our goals. We should all have reasonable expectations of one another and be committed to behaving professionally and respectfully.
''Whilst the government has lifted all restrictions regarding social distancing and face coverings, the College will continue to operate a safety-first policy. This will require staff and students to continue to wear a face covering indoors in all buildings across all centres. We will also expect that one metre social distancing is maintained indoors as well as routine regular hand sanitising. We ask all students to respect these requirements.
''All students at College are allocated a Programme Leader and Progress Coach who will look after their academic and general welfare. Additional support is available from the course team and the Head of Area (the academic manager in charge of the curriculum area). Each student will also be allocated a Work Placement Job Coach, who will work with them to ensure that they engage with any work experience element of their course.
''All of our study programmes are challenging and require full engagement and commitment from students, and also include time for students to engage in social interaction that may include a charitable fundraising activity, community work or involvement with the National Citizenship Service. The College is proud of our students and supports them to become confident, resilient, employable active citizens.
''The College also incorporates teaching about personal safety, online safety, equality and diversity, healthy living and personal health and safety.
''As you can see, the experience at Myerscough College is more than acquiring a qualification, it is about personal growth and development as well as developing employability skills.
''We hope all our students will take pride in being a member of the Myerscough community. We will endeavour to offer the highest quality learning, assessment and support to make every student's time with us enjoyable, fun and above all successful, leading to further study or employment.''