Agriculture students stage moo-vellous Christmas Calf Show
Published

Wednesday 8 Dec 2021
Myerscough agriculture students have staged their annual Christmas Calf Show.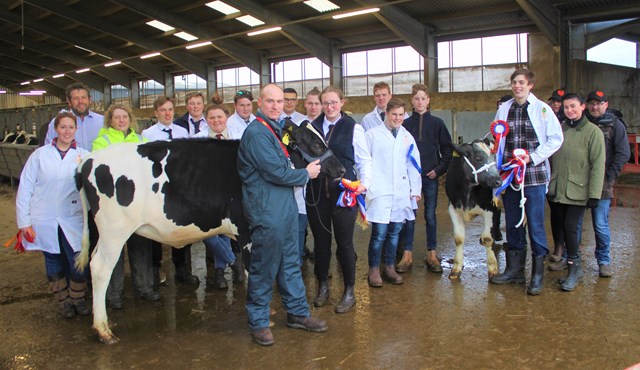 The event is organised by the College's Level 2 Agriculture students, and involves the training and then parading of a variety of dairy heifers and beef cross calves, which were prepared for the show at Myerscough's Livestock Innovation Centre, part of the College's Lodge Farm complex.
Every year the students spend months planning and preparing for the event, with the Christmas Calf show now an annual fixture in the Myerscough calendar. The student's hard work and stockmanship shows how they have developed their skills and confidence in handling and showing the animals, as well as taking pride in both their own appearance and that of their animal.
Since September students have worked extremely hard from the first week in September to halter train their animals and learn the art of showing, as well as cleaning, washing and clipping them.
Craig Thompson, Head of Agriculture at Myerscough College, said: ''Congratulations to all our Level 2 students and their tutor David Iveson for putting on another excellent Christmas Calf Show.
''The livestock and the students looked fantastic and they made their tutors proud! Some of these students didn't even know what a halter was back in September and look at them now! Many thanks to our judges, sponsors and supporters.
''The students be able to take the skills they have learnt into their future employment within the industry.''
Diane Holmes, agriculture lecturer, says: ''As well as giving the students confidence working with cattle the process also encompasses vital English and maths experience. The students have to write their own letters and e-mails to collect donations from national and local businesses for our charity raffle. As well as this the students need to promote the raffle, the chosen charity and sell as many tickets as they can, working hard to raise funds for the Farming Community Network, our chosen charity.
''It has been really encouraging to see the students taking pride in their animal and working together as a team.
''Showing livestock gives farmers the opportunity to get together to show case their work and effort to their local community. This gives the public a chance to see the health and welfare aspects going into farming. Farming can often be a lonely job so events like this are a great way to bring the public and the farming community together.''