Welcome to Myerscough College Catering Services
Our mission is to provide a high-quality catering that meets the needs of our customers and to develop the service that we offer. 
We provide catering through six outlets across Myerscough Preston Campus and one outlet at our Croxteth Campus. All catering outlets are available to cash-paying customers at any time during opening hours.
We also provide a catering services for internal and external conferences, seminars and meetings.
Richmond's Restaurant 
Richmond's is the largest of our catering areas seating 300 students, staff and visitors to enjoy breakfast, lunch and dinner service seven days a week.
Breakfast is a continental/cooked breakfast. At lunch and evening meals both cooked meals and snacks are served. Packed lunches are available to order providing 24 hours notice. All non self-catering students living in halls of residence will be on a five or seven day meal contract.
Prior arrangements for meals outside opening times may only be made with the Catering Operations Manager.  Vending machines are provided across campus for out-of-hours service.
Richmond's Restaurant is open for three meals per day for residential students registered on the biometric system and cash-paying customers. In addition, we have Pickles Sandwich Bar located next to the Mini Market which is open for lunch and late evenings as an alternative to meals provided in Richmond's.
If you have any requirements or comments at any stage, please feel free to let us know either in person, or through the HE and FE course rep meetings or via surveys and feedback forms throughout the academic year and we will endeavour to accommodate.
Please note: Students on a 5 day or 7 day meal contract will be issued with a temporary pin number on registration, valid for two weeks.  During this two week period all students must be registered on to our biometric till system. All students must produce the temporary pin number at every meal until registered on biometric system.  You will be able to register on the system between 9.30am – 11.30am/1.00pm – 2.30pm or between 6.00pm – 6.30pm at Till Point 1 in Richmond's Restaurant.
Opening Times:
Monday – Friday:  Breakfast: 8.00am - 11.15am  Lunch: 11.30am - 2.00pm  Dinner: 4.00pm - 6.30pm
Weekend: Brunch: 9.30am-1.00pm Dinner: 4.00pm-5.15pm
Arena Café Bar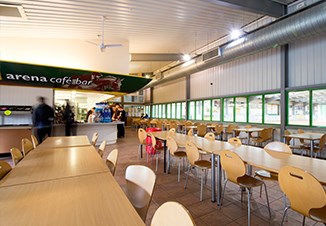 The Arena Café Bar is situated in the Equine Centre providing a service to students, staff and visitors, Monday to Friday and also supporting the many Equine events that take place in the evenings and weekends.
Full Breakfast & Snack Lunch service is available.
Opening Times:
Monday-Friday 9.00am - 3.00pm
Weekends: Dependent on events
The Garden House Tearoom

Situated in the Plant Centre, it provides soup, sandwiches, paninis, jacket potatoes, desserts and speciality hot and cold drinks.
Opening Times:
Monday – Sunday  10.00am - 4.30pm


The HE Cafe Bar

The HE Cafe Bar is situated in the HE Building and is available to students, staff and visitors and provides soup, sandwiches, salads, snacks and hot and cold drinks
Opening Times:
Monday – Friday     9.00am - 3.00pm
.
Pickles Sandwich Bar
Pickles is located on the ground floor by the minimarket and provides a take away service including pizza, smoothies and slush for students, staff and visitors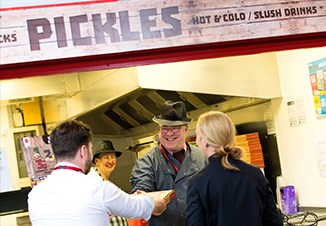 Opening Times:
Monday – Friday     11.00am - 2.00pm
Monday - Thursday   7.00pm – 10.00pm