World Champion Blacksmith gives farriery masterclass to Myerscough students
Published

Tuesday 14 Nov 2017
Myerscough College's farriers were honoured to receive a visit this week from five-time World Champion Blacksmith, Steve Beane.
Steve is known internationally as one of the best in the industry and came to Myerscough for his now regular visit, to give the College's farriery apprentices his expert advice and a diploma demonstration. Steve won the world blacksmith title for four consecutive years between 2009 & 2012, before claiming the crown for a fifth time in 2014.
Farriery apprentices undertake more than four years of training, before preparing for their final assessment to pass the Worshipful Company of Farriers (WCF) qualification, to allow them to practice as a professional working farrier.
Steve said: ''It was a great pre-diplomaa day at Myerscough College. I do the exam with the students marking me and then they all do a mock exam. Thanks to the college staff, students and as always my great sponsor Heller. Good luck to everyone!
''I was delighted to be ask to come and teach the students ahead of what is a crucial time for them. I showed them exactly the standards they'll have to reach to pass''.
''It's tough after four years for their futures to hang on one exam but they'll be more ready now for the task they face.''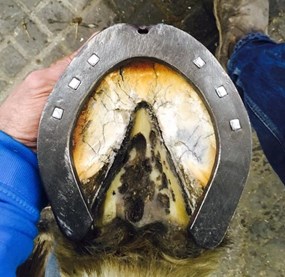 Steve Beane's visit shows the great contacts within the industry that Myerscough College has and it's a great experience for the group to meet somebody so well regarded within it. Industry visits by such professionals add to the high quality of course provision offered by Myerscough and inspires the learners even further.
You can watch a video of Steve Beane giving a diploma exam demonstration here:
Farriery, or the shoeing of horses, is an ancient craft. A farrier is a skilled craftsperson, capable of making shoes to suit all types of horse and their working conditions. Modern farriers must have knowledge of the anatomy of horses' feet and legs, be able to work alongside vets, manage and handle horses, understand and meet the needs of clients and successfully run their own business.
Our farriery students have access to some of the best facilities available. The College has three farriery workshops, with 32 coke forges, anvils and associated tools. There's a tiered seating demonstration area, mobile forge unit, and more than fifty horses on campus - of various sizes, breeds and standards. The College also has a small pony stud and organises regular visits to the Lancashire Constabulary Mounted Division to shoe police horses.
Find out more at http://www.myerscough.ac.uk/courses/farriery
by Dave Salmon
DSalmon@myerscough.ac.uk