Witton Park learners work to improve mental health in young people
Published

Monday 23 Jan 2017
Staff and students at Myerscough College's Witton Park campus are involved in an innovative project to help young people who may be experiencing mental health issues.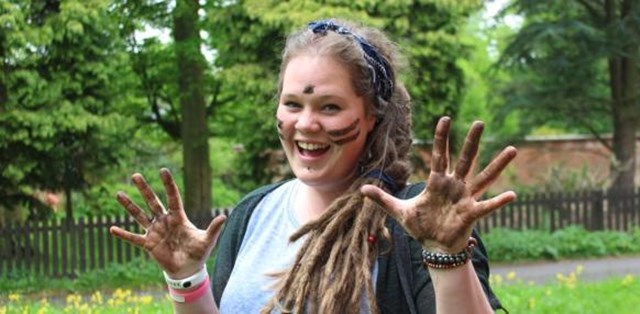 Myerscough has teamed up with the Lancashire Wildlife Trust as part of the MyPlace initiative, a five-year scheme that aims to encourage young people to take part in environmental activity to bring positive benefits for their own health and mental wellbeing, as well as to their local community.
MyPlace aims to reach a thousand young people who may be experiencing mental health issues using what's called 'eco-therapy', where the young people involved can develop new skills and increase their self-esteem therefore building resilience and self-confidence.
'MyPlace' (Motivated Young People Looking After Community Environments) is targeting young people aged between 13 and 25 years old, living in the Chorley, Preston and East Lancashire areas, making the project perfect for Myerscough's Witton Park staff and students to be involved with. The project offers a range of fun and rewarding outdoor activities for young people that will include bushcraft, food growing, walks, conservation tasks and mindfulness. 
Myerscough's involvement is significant and includes the running of weekly sessions with the College's Level 1 Employability students based at Witton Park. These engage the students in working on the site on tasks such as food growing, building a hedge and managing the woodland and garden, as well as engaging the students in community activities.
The project, funded in partnership with the Lancashire Wildlife Trust and Lancashire Care Foundation Trust, by the Big Lottery Fund, is one a number across the country and gives young people referred the opportunity to be involved in a 9-month environmental programme of activity.
Andy Mather, MyPlace Project Officer, explains more: ''These have so far included working on the creation of the Weavers Wheel cycle route (the section near River Darwen Parkway), conservation work in Witton Woods with the Green Gym volunteers and the planting of a hedge in Bangor Street Community Centre.
''We have also been granted access to the Myerscough Witton site to work with externally referred young people on the MyPlace programme who have also been engaged in similar activities which have developed their skill and knowledge base and well as having a positive impact on the site itself.
''The fundamental core of the programme is to promote positive well-being in young people via engaging them in outdoor activities in the natural world.''
Mike Winstanley, MyPlace Senior Project Officer, said: ''The response has been amazing. There is a real willingness to get involved with the work we are offering.
''I am sure that the project is going to make a real difference to young people, enabling them to take an active role in developing their local environment and feeling healthier at the same time.''
by Dave Salmon
DSalmon@myerscough.ac.uk
Back to news