Unique experiences help motorsport students stay on track
Published

Tuesday 17 Nov 2015
Motorsport students from Myerscough College met up with a legend of the rallying world when they were working at an event in Spain.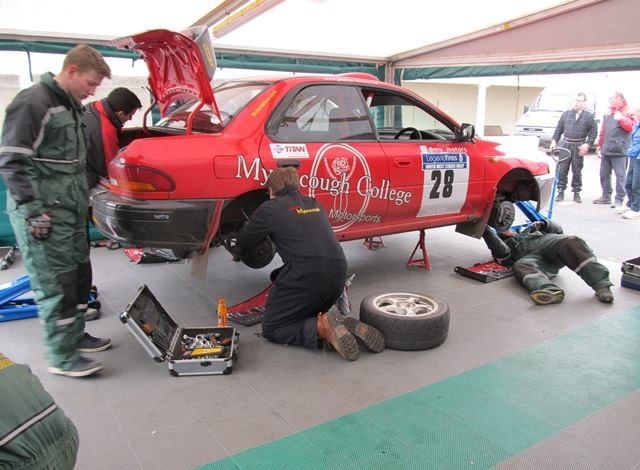 As part of the unique opportunities offered to Myerscough students, the group were part of a team working on the Drive DMACK Fiesta Trophy Rally de España, held in Salou. Eight Foundation Degree students - Peter Maze, Matt Irvine , Chris Aldred, Tom Pilkington, Jake Burns, Frazer Seddon, Connor Murray and Scott McKibbin, were involved as part of service teams. It was the latest of a number of stages of the event, held throughout the year in different countries, that the group were fortunate enough to be part of.
During the trip the party met up with Ari Vatenen, a former winner of the World Rally Championship drivers' title in 1981 and four time winner of the Paris-Dakar Rally. Ari spent time chatting with students and offering advice about how to make it in the motorsport world.
The Drive DMack Fiesta Cup is a competition only in its second year, and is contested within several rounds of the main rally championship, between the cream of young driving talent. All competitors will use M-Sport's Fiesta R2s with a prize of a guaranteed drive in the main WRC2 campaign the following year.
Ronnie Sandham, Assistant Head of Higher Education Motorsports at Myerscough College, said: ''This is a unique opportunity to work in such an environment at world level.
''Thanks to ongoing, key industry partnerships, such as this one with (Cumbrian Rally company) M-Sport, Myerscough College are able to offer such activities, which enable students to gain a wealth of experience at events across Europe, in addition to obtaining a significant, industry recognised qualification.
'At each event the students are at the very heart of the operation, preparing the cars, helping with testing and maintenance and having an active role throughout.
''The experience for students to work with a world rally team is priceless. A number of our students have gone on in the past to secure employment on the back of this. Students with this on their CV have a distinct advantage over others and it enhances the college's reputation too.''
Myerscough College has a strong history of giving motorsport students such exciting opportunities. Recently these have included both Further and Higher Education students looking after Myerscough cars – a Seat Ibiza and Subaru Impreza - at the Neil Howard Stages event at Oulton Park. The event was the first round of the inaugural MSV Rally Championship, which is based exclusively at classic British race circuits.
In addition, Myerscough continues to have a very strong reputation within Formula Ford, with Jack Wolfenden and the Myerscough crew recently heading to Silverstone for two days testing before taking part in the Walter Hayes Trophy.
Myerscough also enjoy a strong presence on and off the track at the annual prestigious North West Stages, as well as other motorsport events across the country and beyond.
Share this article
by Dave Salmon
dsalmon@myerscough.ac.uk 
Back to news