Travel scholarships up for grabs for young farmers, equines & horticulturalists
Published

Monday 13 Jan 2020
Thousands of pounds are once again available thanks to an annual travel scholarship for young people involved in agriculture, equine and horticulture.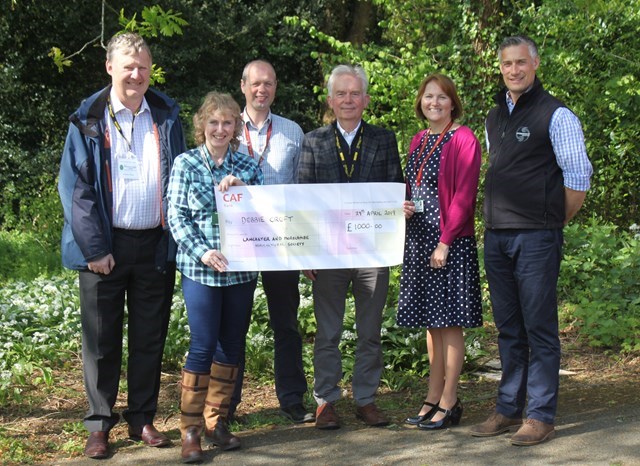 The fund, set up by the Lancaster and Morecambe Agriculture & Horticultural Society Trustees in conjunction with Norbreck Genetics Ltd, is now in its twelfth year, with the aim of encouraging young farmers, equine students and horticulturalists to study or explore business ideas abroad.
At the launch event at Myerscough College's Food and Farming Innovation & Technology Centre on Thursday, January 30th, from 7.30pm, people aged 18 or over and residing in Lancashire can attend and find out more about the opportunities such a scholarship can offer. Applicants do not necessarily have to be in education and do not have to be Myerscough students.
Presentations will be given by previous young people who have benefitted from overseas experiences, including Myerscough agriculture student Kirsten Evans, who has spent time in the Falkland Islands.
Head of Agriculture & Countryside at Myerscough College & University Centre, Craig Thompson, says: ''The Society issue scholarships every year so that young people can travel abroad in order to enhance their career prospects or contribute to the development of the sector that they wish to work in.''
''Applicants need to attend the launch evening where they will be given details of the application process, which usually involves a written rationale for their travel plan together with estimated costings.
''One of the criteria is that applicants must either reside or be studying within Lancashire. Scholarships will be given to those within the land-based sector and will be awarded following an interview process.''
In previous years recipients have visited to countries including the USA, New Zealand, Brazil, Kenya, France and Australia, and to date in excess of £70,000 has been provided for rural youngsters to expand their horizons all over the world, looking at a varied range of issues from walling techniques to beef rearing, sheep marketing, and equine development and research.
The scholarship fund launched by the Lancaster and Morecambe Agriculture and Horticultural Society Trustees in 2009, to encourage young farmers, horticulturalists, equestrians and people involved in agriculture to study or develop their business ideas abroad. It makes use of money released when the Lancaster & Morecambe Show ceased and the sale of land created a fund that the committee wanted to put to good use.
Anyone interested in applying for the fund is encouraged to attend Myerscough College's Food and Farming Innovation & Technology Centre (Lodge Farm, PR3, 0RT) on Thursday, January 30th, at 7.30pm.
by Dave Salmon
DSalmon@myerscough.ac.uk 
Back to news