Traineeship programme gives young people of Salford a better future
Published

Friday 26 May 2017
A Myerscough College traineeship programme designed to give young people in Salford improved job prospects has seen its latest successes.
Salford Futures provides support to unemployed Salford residents, giving them employability skills that support young people and adults into career progression. The aim of traineeships is to give people aged 16-24 access to quality work experience and relevant training to ensure people have the necessary skills and experience required by employers for jobs and apprenticeships.
Recently eighteen young people from the community of Salford were presented with certificates of attendance for successfully completing their traineeship programme with Myerscough College.
Success was recognised from Matthew Wood who has progressed onto an apprenticeship in Business Administration with Children's Services at Salford Civic Centre. In addition, a number of learners from the intake are being offered apprenticeships with Salford City College. 
Beth Pritchard received special commendation for her contribution towards the art and design of the regeneration of the SAYF Nursery and Community Centre. This community project contributed towards the learners Employability Award which was completed as part of their traineeship programme. Team working was especially recognised by the young people holding a fundraiser where they generated money towards paint and resources to complete the project.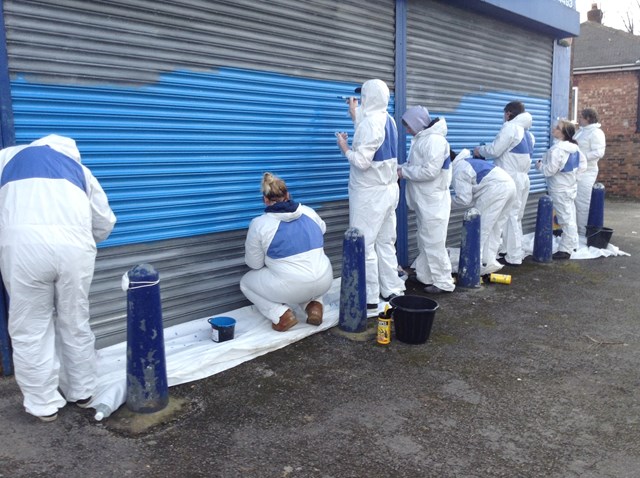 Councillor Walsh from Salford City Council attended to present certificates to the trainees and thanked Myerscough for the excellent work that they did for the young people of Salford to help them realise their ambitions.
Andrea Gardner, Myerscough College's Business Developments & Projects Manager, thanked Councillor Walsh for attending.
Traineeships are voluntary, however people undertaking a traineeship are entitled to receive help with the cost of travel both to and from training and any work experience placement and can also qualify for an allowance.
For more details of the range of traineeships & apprenticeships offered by Myerscough College, click here: http://www.myerscough.ac.uk/courses/apprenticeships/
Share this article
by Dave Salmon
DSalmon@myerscough.ac.uk
Back to news