The apprenticeships landscape factory
Published

Friday 3 May 2019
It's National Gardening Week, and we're celebrating the achievements of some of our most promising learners, and in particular some of our landscaping apprentices.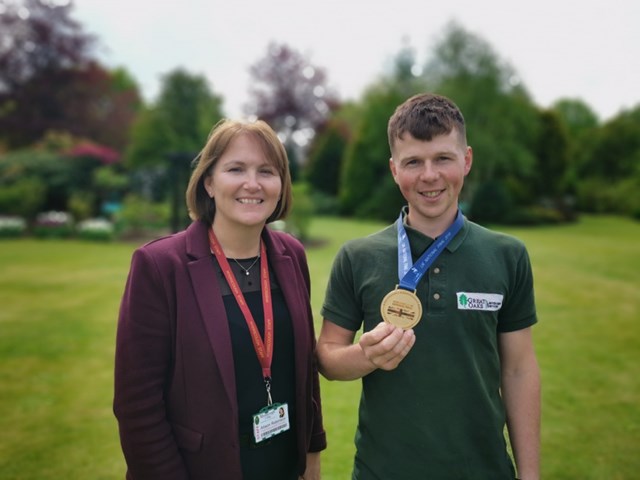 The partnership with the Association of Professional Landscapers (APL) continues to produce learner success, with advanced apprentice Sam Taylor recently winning a Gold Medal in The Flower Port Cup in China. The event was held as part of the Beijing Garden and International Landscape Tournament. Sam works for Garden TLC based in Oldham and is now part way through his advanced apprenticeship with Myerscough College.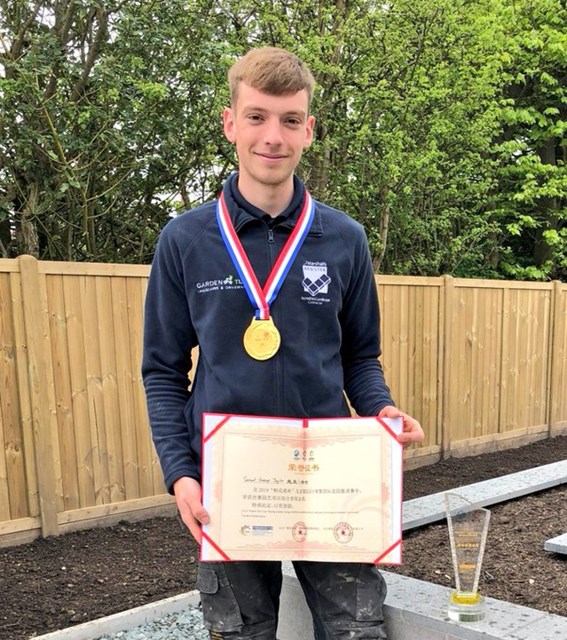 Sam, with his partner Shea McFerran, who studied landscaping at CAFRE in Northern Ireland, form the WorldSkills Team UK Landscape squad, and will also be competing at World Skills in Kazan, Russia, in August. The competition will seek to find the top young Landscape team from across the globe. Sam and Shea also competed at the EuroSkills event held in Budapest in September 2018.
This week also saw a visit from Matt Wood, the current reigning WorldSkills UK gold medal winner (main picture above). Matt saw off strong competition to gain the coveted medal at last year's WorldSkills Live which is held every November at the NEC in Birmingham.
Matt attended College this week and delivered some words of motivation to a group of Landscaping apprentices who this week commence their WorldSkills journey as the heats begin at Myerscough College for the 2019 competition.
Employer Services Manager Lee Price shares his thoughts on the APL apprenticeship partnership and the success in skills competitions: "When the APL Landscaping apprenticeship was planned skills competition was an important part of the delivery model.
''The programme not only ensures that apprentices have the skills, knowledge and behaviours required to complete the programme, but also gives them the chance to test their skills against their peers from the programme and from other Colleges."
"In the four years the programme has run we have seen five WorldSkills medals, including two Gold and we are extremely proud of the achievements of our learners. The programme with the APL saw extensive consultation with employers and was really about providing them with apprentices who have the skills required to achieve success and skills competition is an important part of this skills set.
''It's great to see this year's group commence their competition journey and I wish them all the nest of success."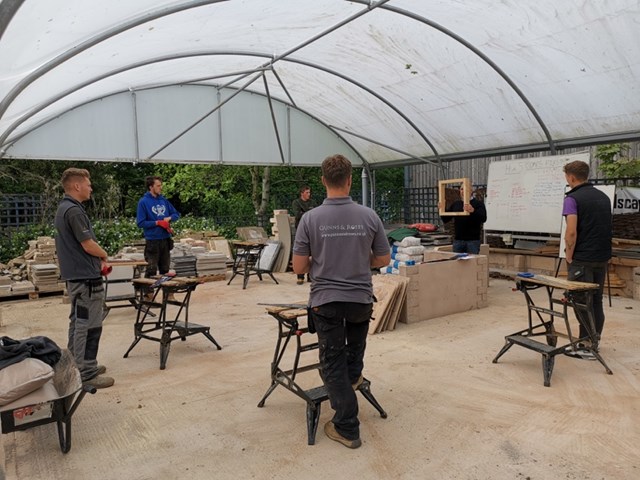 Above: Myerscough College Apprentices as they commence their World Skills Landscaping heat receiving instructions from APL General Manager, Phil Tremayne.
For more information on the APL Myerscough College Landscaping apprenticeship or any other apprenticeship programmes at Myerscough College please contact Employer Services on 01995 642255 or email employerenquiries@myerscough.ac.uk
by Dave Salmon
DSalmon@myerscough.ac.uk 
Back to news