SUCCESS STORY: Former sportsturf student is pitch perfect at PSG
Published

Wednesday 24 Feb 2016
A former Myerscough College sportsturf student continues to earn international plaudits for his work in producing some of the finest playing surfaces in world football.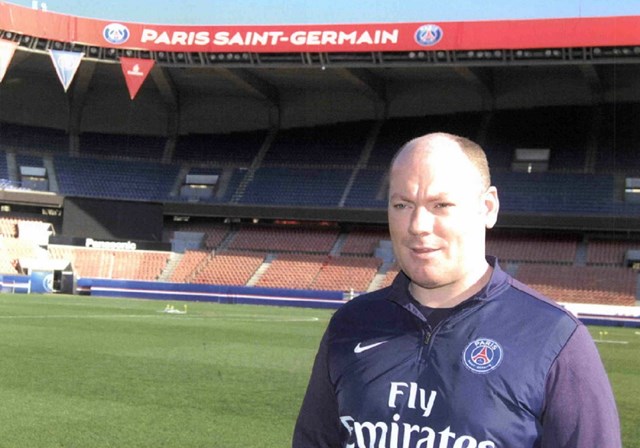 International stars including Lionel Messi and Neymar have praised the pitches produced by Jonathan Calderwood, Head Groundman at Paris Saint-Germain, who play at Parc des Princes.
Jonathan studied at Myerscough in the mid 90s, and has a string of accolades to his name. He was voted Institiute of Groundsman (IOG) best in the English Premier League twice in both 2009 and 2012 for his work with Aston Villa, before moving to France in 2013, becoming French Groundman of the Year in his first season.
Jonathan came to Myerscough College at 17 from his home in Northern Ireland and has never looked back. Whilst at the college, he studied for a Higher National Diploma in Turf Science & Sports Ground Management. He was named Sportsturf Student of the Year, and as part of his prize worked at the old Wembley stadium on a six month placement, which lead to a full time job there when he graduated.
Since then, Jonathan has earned a reputation as one of Europe's leading groundsmen, working at Wolverhampton Wanderers before spending the last eleven years at Villa Park.
He said: ''When we played Barcelona, I was told that Messi and Neymar both said it was the best pitch they've ever played on, when we played Real Madrid last season I got the same feedback from them.
"When you hear someone saying 'the guy just cuts grass' it's a little bit hurtful because I know what skills are involved, what dedication, what hours, what knowledge and experience goes into having a pitch like what we have at PSG.
"Modern day football pitches are so complex and so complicated. I spent three years full-time studying and I would say 90% of my time was spent in the laboratory doing soil analysis, weeds, pesticides, disease management, wind, water, sunshine, fertiliser programmes and aeration - there is so much to it.''
Jonathan's next challenge is in the forthcoming Euro 2016 tournament in June, where Parc des Princes hosts a group game between Germany & his native Northern Ireland.
Jonathan added: "If you're a groundsman like me, you want to work at the very top and it doesn't come much bigger than the European Championships," he said.
"For me to move to Paris and for Northern Ireland to end up playing Germany in Paris on my pitch it doesn't get any better than that - it's like a dream come true.''
In 2011, Jonathan was given an Alumni Award from Myerscough College for his outstanding achievements in the sportsturf industry.
Share this article
by Dave Salmon
DSalmon@myerscough.ac.uk
Back to news