Student success celebrated as four new Honorary Fellowships awarded
Published

Monday 16 Jul 2018
Myerscough College and University Centre is delighted to announce the awarding of its latest Honorary Fellowships.
Internationally acclaimed consultant in agriculture, Neil Rowe; horticulture and landscape magnate, Bill Trotman; international animal conservationist, David Barclay; and former Myerscough Corporation Chairman, now Management Consultant and charity champion, Ian Higginbotham, have all accepted the highest honour that the College can bestow.
They have now been inducted into the College's elite group of inspirational people and join a very exclusive club that contains names from the world of business, sport and entertainment.
Neil Rowe
Nuffield Scholar, Neil Rowe, has 38 years of experience managing high performance beef and dairy farms, and is now an internationally renowned consultant in agriculture.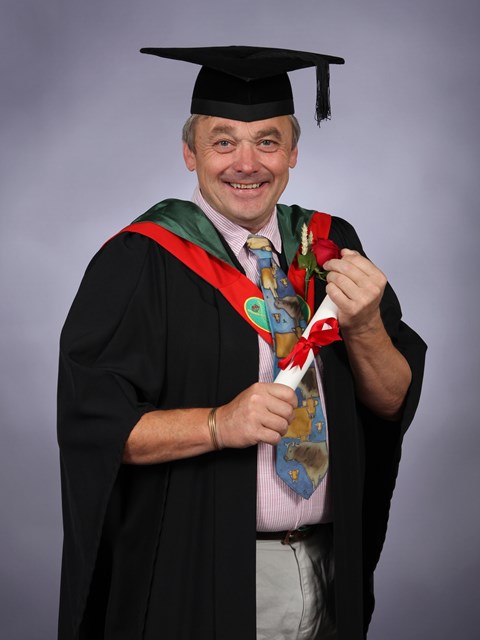 Neil has a reputation for innovation, sustainable farming and knowledge transfer, being a regular speaker at conferences and farmer meetings.  For the last ten years alongside farm management Neil has been providing agricultural consultancy to farmers and industry.  In the last four years he has been a finalist or winner in three national awards.
For 25 years Neil has been an Ambassador for the charity "Send a Cow", which works with marginalised community groups building a vision for a better future for farming via training and business development, and he is at the forefront of beef innovation and knowledge of high-performance dairying.
Neil has been a good friend to the College and has supported the Myerscough's annual Research Conferences for a number of years.
Neil Rowe is awarded a Myerscough College Honorary Fellowship in recognition of his outstanding contribution in the field of agriculture and innovative practices in both dairy & beef sectors.
Neil said: ''I'm very humbled and honoured to receive this award.
''From a very early age all I wanted to do was be a farmer. I stared form the age of seven and have been fortunate to have worked with people who have believed in me and taught me about lifelong learning.
''My advice to students graduating and receiving their qualifications is to seek out as many opportunities as you can. Wherever you go there are always opportunities to learn new things. Take them and use them wisely.
''The most valuable lesson I've learned is that change is inevitable, but success isn't. I'd like to wish everyone every success in their chosen career.''
Bill Trotman
Bill Trotman has been in the horticultural industry for 47 years, working both in the public and private sectors. He is currently the Managing Director of Continental Landscapes, a business with a c£30m annual turnover.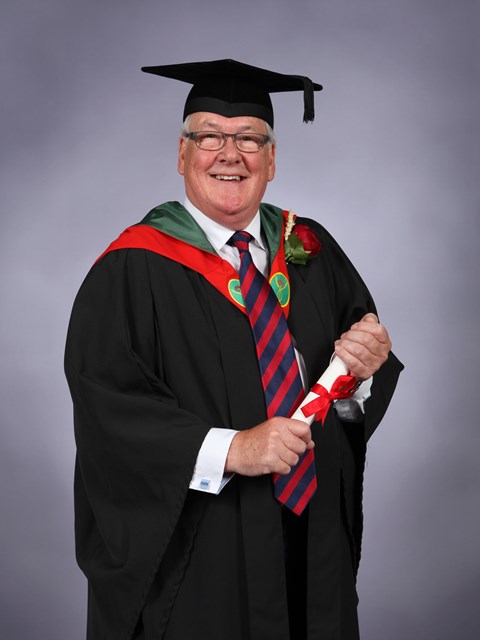 Bill attended Myerscough between 1972-75, studying a course in amenity horticulture. He has been with Continental Landscapes for the last 23 years and as Managing Director since 2008. He has a range of academic qualifications in horticulture and technical disciplines, parks and public administration and a business degree.
Continental regularly support local causes via sponsorship and donations, although their preferred method of support and engagement is through the use of their people, with their skilled staff assisting and supporting the community in which they live and work. Volunteers who work with them, gain value not only through the work experience but also through access to certified training to improve their personal, professional development and employability.
Bill's relationship with Myerscough continues through his work, and also through the delivery of Horticulture Operative Apprenticeships funded by their Apprenticeship Levy.
Bill Trotman is awarded a Myerscough College Honorary Fellowship in recognition of his outstanding contribution in field of landscape and horticulture.
Bill said: ''This is indeed an honour for me and I'm very grateful to receive this award.
''I had a simple working class upbringing and was always more practical than academic – right from working in a garden centre at 17, through to studying for three years in the 1970s and then onto a career in the public sector working in plant nurseries, large scale land reclamation schemes, new parks, country parks and an urban farm, before moving into the private sector.
''I've been fortunate enough to have work I'm passionate about and work that is also rewarding. I try to do the right things with hard work and have a passion for results, and these have been the keys to the later rewards of my achievements over the years.
''For students I would say set your targets for your personal achievements and then position yourself to achieve them and enjoy your career.''
David Barclay
David Barclay is Cat Conservation Project Officer at the Royal Zoological Society of Scotland, with his conservation and research work taking him all over the world.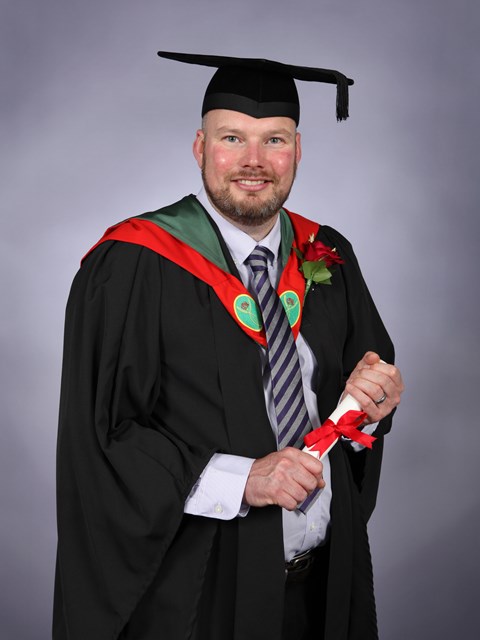 David's main area of interest is with carnivore conservation, and more specifically felid based conservation and research issues. Most of his recent work and experience has been focusing on captive management and breeding programme management whilst establishing global conservation projects for Pallas's cats. This work has allowed David to create new conservation networks between Zoological institutions and active in-situ field teams with the long-term goal of improving global awareness of small cat species and effective conservation efforts.
For the last 10 years David has specialised in the management, captive breeding and research of felids and continues to play a key role in both Scottish wildcat and Pallas's cat conservation projects.
David was instrumental in Myerscough acquiring four Scottish wildcats, who live at the College's Animal Studies Centre, which means Myerscough is a contributor to the national conservation plan. Animal students at Myerscough now have the privilege of these iconic animals being part of the collection and learning about them. 
David Barclay is awarded a Myerscough College Honorary Fellowship in recognition of his outstanding achievements in felid based conservation (particularly Scottish Wildcats).
David said: ''It's an absolute privilege to be given a fellowship in recognition of my work.
''The conservation world is not free from struggle. You get knocked down a lot and I work with many people across the world who face many challenges. I will always be passionate about my field and it's great to be able to share my expertise with Myerscough. I hope that future students can learn too.
''I'm indebted to my employer to giving me so many opportunities and my family for their support.
 "My advice to students is to take every challenge that life throws at you as a learning opportunity and use it to get where you want. Be passionate about what you do and support others around you and most of all, enjoy your career." 
Ian Higginbotham
Ian Higginbotham is a former Chair of the Myerscough Board of Governors. After a long career in the financial sector, Ian is now a Management Consultant, as well as being actively involved in Christian charity work.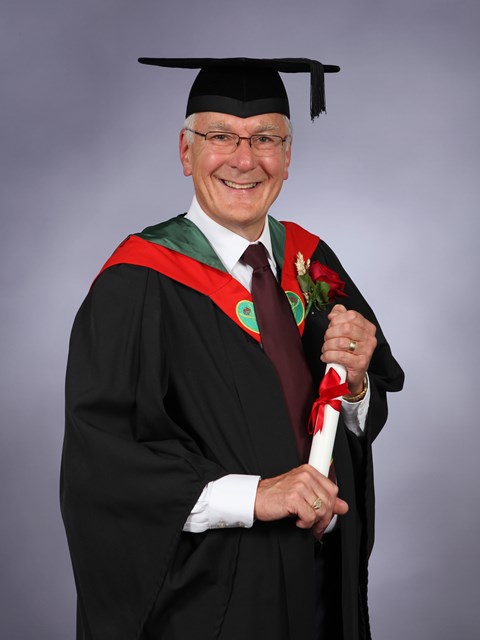 Ian became Chairman of the Myerscough Corporation in 2010, serving until the end of 2013. During this time Myerscough became among the top 5% performing Colleges in the UK.
Ian retired as Area Director for HSBC Bank in 2004, and since then he has been asked to lead law firms through times of change, been involved in the inception of a Multi-Academy Trust, and other Christian ventures locally and internationally.
Ian is actively involved at Fulwood Free Methodist Church and is also one of the founding Trustees of Preston and South Ribble Street Pastors, a group of trained volunteers from local churches who care about their community, work with the homeless and other people in need.
Ian has other overseas interests and Chairs a Strategic International Board to support the work of a 260 bed General Hospital in Rwanda, where heacts as Chancellor to a growing University in the province, and spends time training Rwandan Pastors in leadership issues.
Ian Higginbotham is awarded a Myerscough College Honorary Fellowship in recognition of his commitment, dedication & services to the College and charitable work.
Ian said: ''A massive thank you to the College for this honour. I'm deeply humbled and never thought I'd be a recipient of this.
''I've worked with thousands of clients over the years and the most successful ones had a positive desire to improve things, whether that was their personal lives or their businesses.
''My advice is help people where you can – you'd be amazed at how much you'll learn as a result. Focus on the things you can change. The students have achieved amazing things, but this is just a springboard to where they're going to be in the future.
''It has been an inspirational privilege to work with one of the very best land based colleges, which gives opportunities to people to succeed. Remember, the best is yet to come!"
They join a fellowship list including the likes of ex-Manchester United manager, David Moyes; football legends Jimmy Armfield CBE & Sir Tom Finney; cricketer Andrew Flintoff; and supermarket entrepreneur, Edwin Booth.
As usual, ceremonies have taken place across Lancashire & Merseyside this year that have seen hundreds of Myerscough College and University Centre students presented with their qualifications in both Higher and Further Education, ranging from degrees and foundation degrees, through to BTECs, City & Guilds, and a host of other vocational qualifications and apprenticeships.
Alison Robinson, Principal & Chief Executive of Myerscough College, said: ''I'm pleased and proud to welcome our four new fellowships, and I know they join with me in congratulating our students on their achievements.
''All four of them have made vital contributions to our student success and experiences.
''Congratulations to all of our students. Their level of achievement and commitment to their qualifications as they sometimes juggle other demands is really quite incredible. These ceremonies are an opportunity to celebrate and recognise the hard work our learners have out into their studies.
''Students are at the heart of the College at Myerscough and the experience of our learners is so much more than a simple qualification. It includes high quality work experience, sporting competitions, applied research, community work, charity fundraising and industry knowledge, which all creates a broad, life changing experience.
''These are exciting times for Myerscough, with high levels of achievement and an ongoing capital plan that has already seen new developments such as or Food and Farming Innovation & Technology Centre and new equine and animal buildings at our Croxteth campus, as well as the forthcoming opening of new satellite centres at Bowring Park in Merseyside and Walton Hall in Warrington.''
Share this article
by Dave Salmon
DSalmon@myerscough.ac.uk
Back to news