Staff and students 'wear It pink' for breast cancer research
Published

Friday 20 Oct 2017
Myerscough College veterinary nursing staff and students have today supported Breast Cancer Now's 'wear it pink' initiative.
The annual event sees people across the country wear something pink for one day to raise cash for breast cancer research. Dozens of Myerscough staff and students have been supporting the campaign by dressing up and raising money around campus.
Breast Cancer Now's wear it pink day is one of the biggest fundraising events in the UK and takes  place every year during Breast Cancer Awareness Month, to raise funds for the UK's largest breast cancer charity, Breast Cancer Now. 
So far, more than £30 million has been raised for our life-saving research, to discover how to prevent breast cancer, how to detect it earlier and how to treat it effectively at every stage.
Despite recent advances, breast cancer is still the most common cancer. Every year it claims the lives of 12,000 women, and 50,000 more are diagnosed. Money raised so far is already funding world-class research across the UK and Ireland that saves lives.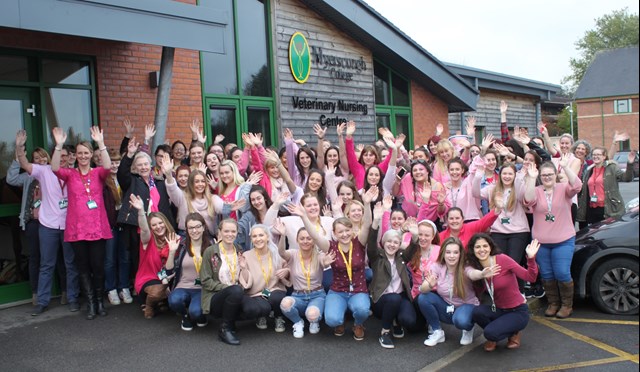 FE Assistant Head of Veterinary Nursing, Lynne Kerrigan, said the issue has close links to many students and staff. She said: "Breast Cancer Now is a charity very close to our hearts in Veterinary Nursing so I asked my students if they would support the campaign by wearing pink to College for the day.''
''They've really got in the spirit of the day and I'm so pleased so many of them have got involved. Well done, everybody!''
The photograph shows staff & students 'wearing it pink' in support of the campaign.
Share this article
by Dave Salmon
DSalmon@myerscough.ac.uk
Back to news