Sport students enjoy roll out of inclusive rugby programme
Published

Thursday 15 Dec 2016
Myerscough College students were recently treated to a session courtesy of the Sale Sharks Community Trust.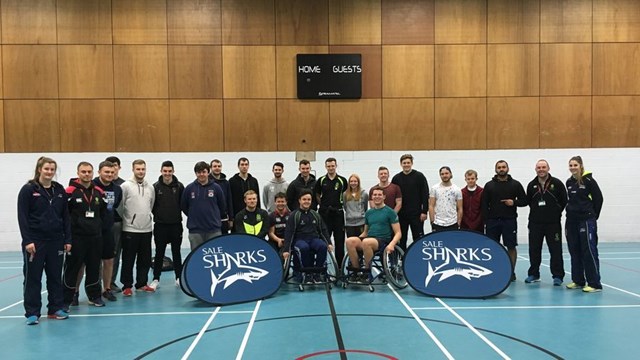 Foundation degree Rugby Coaching staff and learners were joined by cricket students for the 'In The Pack' CPD (Continuing Professional Development (CPD) workshop, as part of a special session to develop and enhance their abilities.
The workshop was aimed at not only widening the reach of Sharks Community Trust's Inclusive Rugby Programme, 'In the Pack', but to upskill students who aim to work within a sports coaching setting after their studies are completed. 
Students who attended the workshop spoke about what they learnt and gained from attending the workshop, including  learning how to adapt sessions to ensure the session caters for all needs and abilities and picking up coaching techniques when they deliver a session for a disabled group. As part of this, the group enjoyed a game of wheelchair rugby.

Dan Orwin, Rugby Coaching, Course Leader at Myerscough said about the CPD workshop: "We were privileged to have Vicky and Hannah, from Sharks Community Trust visit our college to deliver an Inclusive Rugby workshop to our coaching degree students. The feedback from staff and students was outstanding and everyone took something away from the session. 

"Through wheelchair rugby, our students gained an insight into the challenges facing disabled sports people. We are hoping to get Sharks Community Trust back into the college in the new year."

Vicky Irwin, Inclusion Officer spoke about the session: "It is great to deliver the first Inclusive CPD which creates another element to the 'In the Pack' programme. The workshop aims to provide students and individuals interested in the sports coaching environment an opportunity to gain some knowledge within an inclusive sports coaching setting. 

"This will play a pivotal part in recruiting local volunteers who will help with the delivery and compliment sessions along with those individuals gaining experience to use in the future.''
Share this article
by Dave Salmon
DSalmon@myerscough.ac.uk 
Back to news