South African adventure for Animal Studies students
Published

Wednesday 7 Sep 2016
Myerscough College Animal Studies students have returned from a three week trip to South Africa where they worked on a conservation project.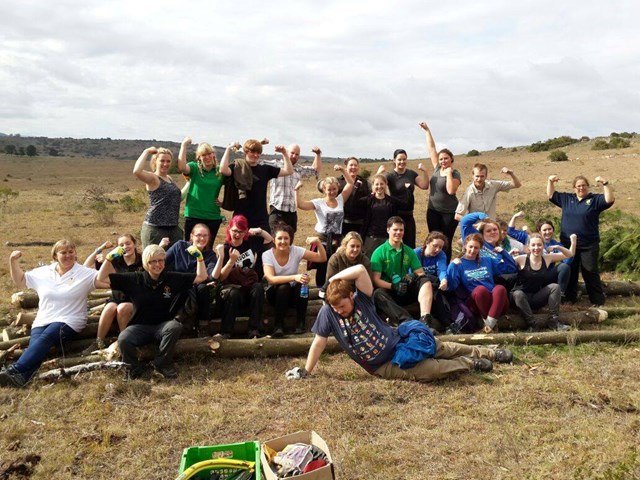 Students and staff headed to the Shamwari Game Reserve, near Port Elizabeth, on the Eastern Cape of the country, for what has now become an annual trip.
As ever, the group enjoyed a busy and varied programme of activities which included monitoring of wildlife such as predators, elephants and rhinos. They also visited the local animal rehabilitation centre and undertook some key conservation activities like road maintenance, pine tree chopping, and alien vegetation control, an essential part of the maintenance of the reserve.
Also during the trip the group spent time in the local community, including delivering an art experience with a conservation theme at a local school in nearby Alicedale.
The group also take to the country a significant donation of goods to be used by the local community, and this year took across twelve extra suitcases of equipment and clothes, in addition to handing over a cash donation of 17,000 South African Rand, which equates to around £900, which was raised through fundraising activities ahead of the trip.
Tutor, Louise Bell, organises the trip and says: ''This is the fifth time we've been on this trip and it was hugely successful once again.
''The students worked within a well-established project and while they are there discovered new life skills and experienced things they couldn't do anywhere else in the world. It was a great experience for everyone in the group.''
A spokesperson for the Shamwari Conservation Experience said: ''We are speechless and overwhelmed by your generosity to our community projects. A massive thank you from us all.''
''Huge thanks to the Myerscough students and staff for their incredible commitment to the experience. We couldn't do this excellent work without them and hope that they will soon be back to see what they have made possible.''
''We hope you have had an amazing time and hope to see Myerscough back again next year.''
Click the link here for amazing camera trap footage captured by Myerscough College during the trip of some of the beautiful creatures at the Shamwari Conservation area in South Africa: https://www.youtube.com/watch?v=l2ZCYv-gxGY
by Dave Salmon
DSalmon@myerscough.ac.uk
Back to news