Sod cutting ceremony marks start of Croxteth Park redevelopment
Published

Friday 19 May 2017
A multi-million pound revamp of Myerscough College's centre at Croxteth Park on Merseyside has been celebrated with a traditional sod cutting ceremony to mark the start of the building of a new education hub.
Work is now underway on the building of the state-of-the-art facility that will compliment the College's current provision at Croxteth Park.
The project sees the former Glendale council depot on the site being transformed into new, expanded teaching facilities to replace the current outdated and inflexible accommodation currently in use. When complete, the new-look Myerscough College Croxteth Centre will be made up of single-storey buildings sited behind a wall opposite the Home Farm area of the site.
The new training facilities will include three animal studies blocks along with stabling, aviaries and pens for goats, alpacas and hens adjacent to the Grade II listed former Laundry House.
Two other buildings are to be converted for animal housing and dog grooming, and a third will be for reptiles, amphibians and tropical species as well as accommodation for staff and students.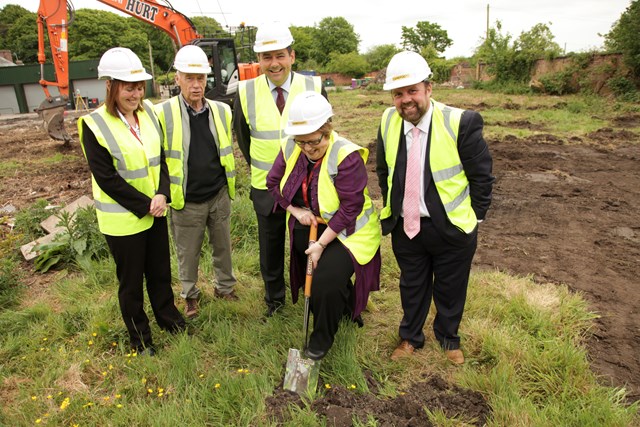 The city council is to contribute £500,000 to the scheme by way of a discounted rent on the site over the next 10 years, in addition to £1 million from the College and £2 million from the Liverpool City Region Local Enterprise Partnership (LEP).
Click here to see video drone footage of the ceremony and an overview of where the build is taking place:
John Wherry, Deputy Principal Resources, Myerscough College, says: "It's an exciting time for the College as we develop these new buildings to meet the changing educational needs of our students.
''The new complex will include state of the art facilities which will allow for us to continue developing our students to their full potential."
Chief Exec and Principal of Myerscough College, Ann Turner, explains: ''Exciting times are ahead. It's a further multi-million pound investment into the ongoing redevelopment of our centres.
''When it's finished it'll be something we can be proud of and I know the subject areas that will utilise the new facility can't wait to get started. It's fantastic that we're getting another new building that will significantly benefit both our students and the public.''
Assistant Mayor and Cabinet member for education, employment and skills, Councillor Nick Small, said: "The College does fantastic work but is working out of accommodation that is no longer suitable for modern teaching methods.
"It will enhance and improve their work and mean that students interested in studying for the qualifications that they offer can do so in the best quality surroundings.
"As well as delivering good quality education and training, it will also boost the local economy as local workers and apprentices will be employed during the construction phase."
Helen Eaton, Myerscough's Assistant Principal for Liverpool said: "Myerscough Liverpool was first established in 1999 in partnership with the city council and over time we have developed to provide a range of courses at Croxteth Park.
"We've worked closely with Glendale for a number of years and have been their sole training provider for almost a decade and so taking control of their depot is the next logical step of what will hopefully further enhance our education offer to the students of Merseyside.
"We carried out a review of our facilities at Croxteth Park before submitting our plans and developing this area of the park is the most viable and cost effective."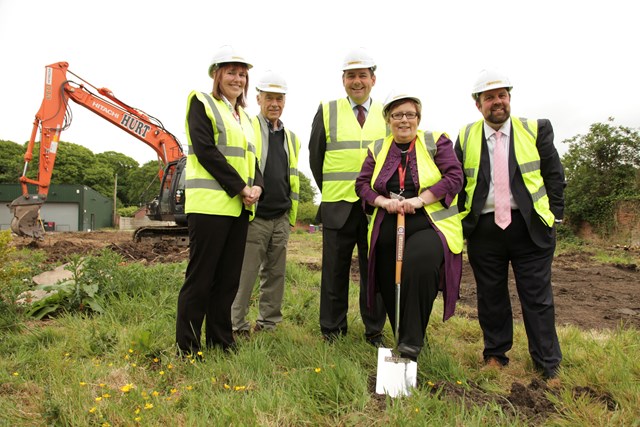 The photographs show the invited guests at the sod cutting ceremony, including on main picture (L-R) – Yvonne Hegarty & Neil Maguire (Liverpool City Region Local Enterprise Partnership); Helen Eaton (Assistant Principal – Liverpool); Tony Colligan (Friends of Croxteth Hall & Park); Stephen Twigg (Labour and Co-operative parliamentary candidate for Liverpool West Derby); Ann Turner (Myerscough College Principal & Chief Exec); Tony & Chris Beyga (Croxteth Park Volunteer Group); Chris Lomas (Liverpool City Council); Cllr Nick Small (Liverpool Assistant Mayor); Nick Flanagan (Liverpool City Council); and John Wherry (Myerscough College Deputy Principal Resources).
Share this article
by Dave Salmon
DSalmon@myerscough.ac.uk
Back to news