Shepherd Peter springs into action for Myerscough Lambing Season
Published

Friday 22 March
It's a very busy time of year at Myerscough College's Lee Farm, with the Spring Lambing Season well underway.
The season usually lasts approximately between early February and April, and involves Myerscough agriculture staff working around the clock to deliver around two thousand newborn lambs every year.
The lambing process begins back in early autumn, when the rams are put out with the ewes for breeding. Rams are sometimes called 'tups, and mating is often referred to as 'tupping'. Sheep carry lambs for around 145 days. During pregnancy, ewes have a scan to check progress and establish their probable due dates. Most ewes give birth to, and then rear, twins, but single births and triplets are also common.
After scanning, ewes are usually split into groups according to how many lambs they are carrying. This allows the farm to make sure the ewes are managed correctly through the process in terms of their feeding and ongoing care.
Ewes can be lambed indoors or outdoors, depending on their breed, with Myerscough lambs generally born indoors. March and April are peak lambing time in the UK, making these next few weeks a very busy time down on the farm. When a lamb is born, the sheep is left to nurse it in order to establish a bond. After birth, the ewe and her lambs are then placed in a small pen to help with the bonding process.
Newborn lambs receive colostrum from their mother in order to help them avoid disease, and then the animals are usually 'turned out' into the fields within a day or so after birth. Lambs weigh roughly 2.5kg when they are born and grow very quickly, with some ready for market in just a few months.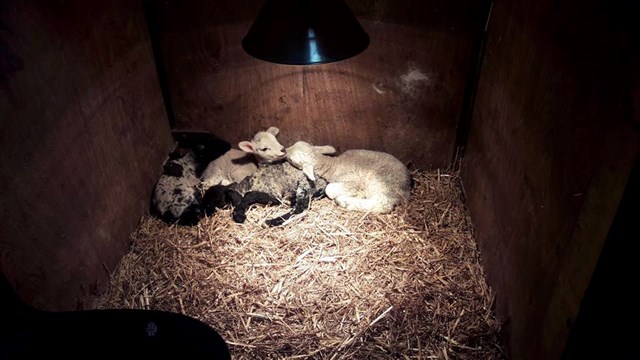 Peter Mitchell is the Shepherd at Myerscough College's Lee Farm and says: ''It's been a tough couple of weeks with the weather, which has been the worst it's been all winter. But, we've so far seen around a thousand lambs born and we're around half way.
''We've been knee deep in water in our fields and have had to move some sheep and lambs to drier ground.
''The lambing shed is very busy at the moment – it's non-stop work, 24 hours a day, seven days a week. It's a very busy time, but a vital one, as the success of the rest of the year in our operations depends on lambing.
''We face many challenges every year such as the weather, feeding, and the health of the animals. At the moment we have staff on site round the clock. Within 24 hours of birth the newborn lambs will be placed back outside and will be being reared by their ewe.''
Myerscough agriculture students are also involved in the process too. As part of their programme they are given the opportunity to help with the lambing, including working night shifts to make sure they experience the full experience of how the process is carried out on a working farm.
Share this article
by Dave Salmon
DSalmon@myerscough.ac.uk
Back to news