Seventh heaven for Myerscough College Motorsport at North West Stages rally
Published

Wednesday 22 Feb 2017
Myerscough College motorsport students will be in seventh heaven this weekend, as they help to maintain no less than seven cars on Blackpool's Legend Fires North West Stages rally.
Myerscough continues to offer students enrichment experiences of working at prestigious events on the motorsport calendar in addition to their course studies and this is another big opportunity for the College across the weekend.
Students from both Further and Higher Education courses will join forces for the ambitious undertaking, servicing on a wide variety of cars across different classes. Of the seven being looked after by students, three of them – a Nissan Micra, a Subaru Impreza and a Seat Ibiza – are College cars contesting the event. Two of these vehicles are being hired to local businessmen to drive, while one will be driven by Myerscough motorsport lecturer, Simon Moss.
Simon said: ''The rally is a regular fixture on the College calendar, but this is the biggest commitment we have ever asked of our students.
"They will obviously be heavily involved with the College cars, having prepared them in the workshop, but they will also be helping to maintain four other cars with limited time to become acquainted with them."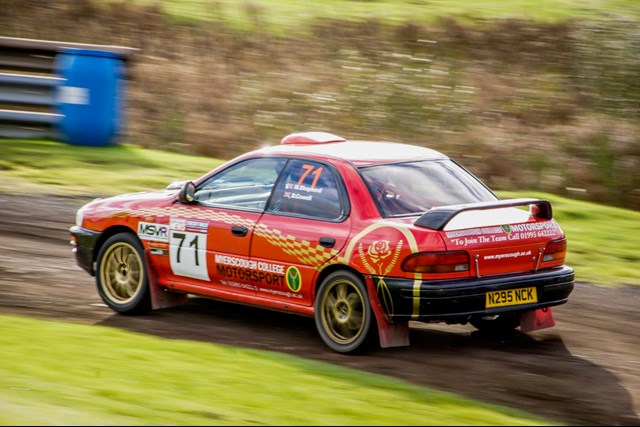 Rally sponsor and former event winner John Stone has accepted an invitation to share the College's facilities and following a successful test last week, he was impressed with what was on offer. John said: ''Myerscough approached me via Facebook and I must say I was very pleased with the way the students worked on a totally unfamiliar car. We tested at the Three Sisters Race Circuit last week and under the guidance of my technician Paul, managed to iron out some teething problems following a complete rebuild."
Students studying for a degree in Motorsport Management and Logistics now have the task of managing the media output and ensuring that the team is kept fed and watered for the two day event – no mean feat when there are more than fifty including drivers and co-drivers.
The North West Stages rally is recognised as one of the biggest sealed surface rallies in England and celebrates its 20th anniversary this year. It starts on Friday evening (24th Feb) from Blackpool's iconic Norbreck Castle hotel (Rally HQ), with centralised servicing on the promenade near to north pier. The majority of stages take place on Saturday from 9am, returning to the HQ for the ceremonial finish from 5.50pm.
More information including spectator areas is available at www.nwstages.co.uk
Follow the crew's progress via Myerscough College HE Motorsport Facebook page: www.facebook.com/MyerscoughHEMotorsport
The cars with Myerscough involvement are as follows:
No

Driver & Co-driver

Car

cc

Class

5

John Stone & Ian Davis

Ford Fiesta

2500

E

8

Peter Jackson & Darren Taylor

Ford Escort

2000

D

29

Duncan Taylor & Stephen Graveson

Subaru Impreza*

2000

E

39

Adam Taylor & James Taylor

Ford Fiesta

1600

B

63

Simon Moss & Mark Shepherd

Seat Ibiza*

2000

C

82

John Livermore & Dave Terry

Chrysler Avenger

1600

R

91

Mark Smith & Michael Clarke

Nissan Micra*

1000

F

* Myerscough College cars
Share this article
by Dave Salmon
DSalmon@myerscough.ac.uk
Back to news