Sean named as rising star in arboriculture sector
Published

Monday 20 Aug 2018
A University Centre Myerscough arboriculture graduate has been recognised as one to watch in the sector by the Institute of Chartered Foresters.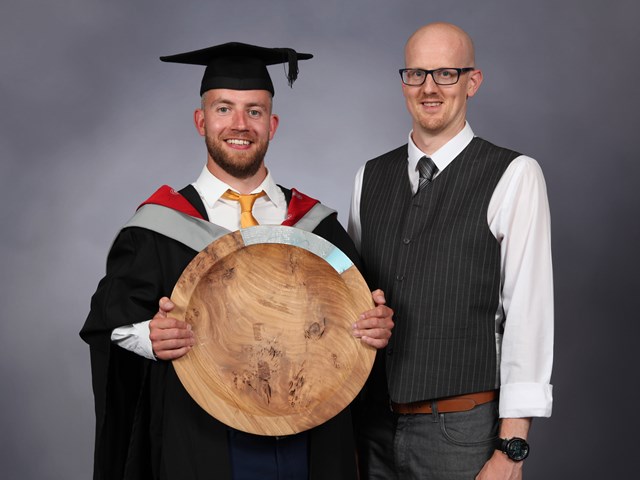 Sean Roberts has been named as a recipient of an ICF student award, which recognise distinguished learners as ones to watch. Ryan graduated with BSc (Hons) in Arboriculture & Urban Forestry earlier this summer.
The awards are designed to build valuable connections between the industry and the UK's rising forestry and arboricultural talent. Sean was presented with his award for the ICF Top Dissertation at the Myerscough Higher Education Graduation Ceremony last month in recognition of his academic achievement and emerging talent in the sector.
Sean receives a one-year ICF Associate membership subscription – a valuable platform for starting a career, offering the opportunity to develop professionally and expand a network of forestry and arboricultural peers. Associate membership is the first step to chartered status and seen as necessary or desirable by many leading employers.
Sean was nominated for the ICF award by the Myerscough arboriculture tutors, who said: ''Sean has worked extremely hard on his studies, with increasingly higher grades as he passed through the course.
''His research project assessed patterns of branch death in ash trees suffering from ash dieback disease, concluding that damage to the trunks of young trees was caused by initial infection of small side branches.
''This finding may be of help in managing this devastating tree disease and for this he has achieved this award.''
ICF Executive Director Shireen Chambers FICFor congratulated the 2018 award winners, emphasising the importance of the Institute actively supporting the next generation within the sector: "The Institute is delighted to congratulate all the winners of the ICF Student Award 2018.
"As the UK's only professional body for foresters and arboriculturists, the Institute strongly believes in supporting rising talent as they begin their professional journey.
"The Institute welcomes the 2018 ICF Student Award winners as new Associate members. We hope the winners take advantage of the opportunities that come with belonging to a professional body through networking, events, job alerts, news and resources to help enhance their career. We wish the winners all the best in their career."
by Dave Salmon
DSalmon@myerscough.ac.uk 
Back to news