Say g'day to Myerscough cricket's new coach
Published

Monday 12 Sep 2016
Myerscough College cricket has gone Down Under for its latest appointment as Australian Liam Castellas joins the team as coach and FE lecturer.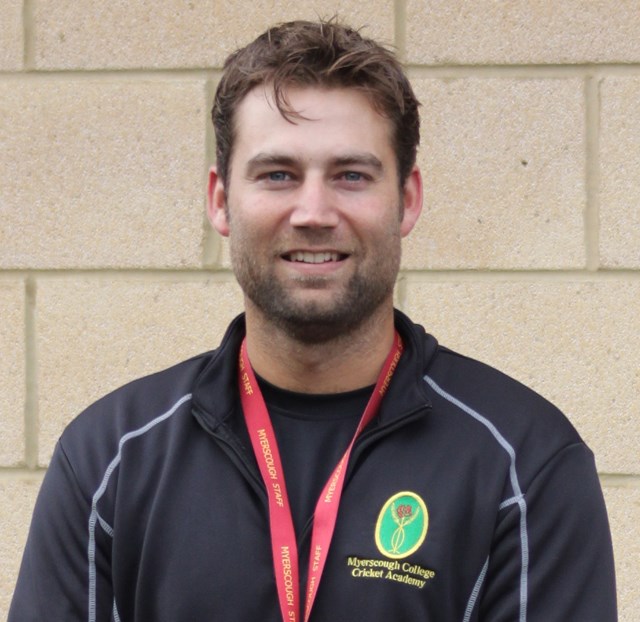 Liam completed his teaching degree as a Cricket Scholarship holder at Melbourne University, and is no stranger to the UK, having spent a number of seasons playing cricket in England. He's also a former Head Coach of the Cricket Victoria Academy (Female) and at the Cricket Australia Centre of Excellence in Brisbane, he completed his Cricket Australia Level 3 High Performance Coaching Course.
We caught up with Liam ahead of the start of an exciting new year:
So how did you end up as a cricket tutor at Myerscough College?
My wife is English so I moved to England to be with family. I'd also played local cricket as an overseas professional player in Manchester.
There are great opportunities to teach cricket in this country compared to a where there's only six professional states.  
I also played Premier League cricket in Australia and coached at junior & senior level in my native Victoria, where I obtained my coaching badges.
What are the main differences between cricket in Australia and England?
I'm only just starting but there are a lot of cultural and structural differences. I'm learning a lot but I'm also making sure I'm open to working with people and coaching in different circumstances and conditions is one thing I'm enjoying so far.
A couple of places Down Under do a similar course aimed at similar age group, but there's not a direct link and it's certainly not as established. The main way kids progress in cricket in Australia is mainly by going to private schools. I'm pleased to be part of the Myerscough set up and it's really exciting.
What do we offer at Myerscough?
If this kind of option was available when I was at school I'd have jumped on it. It's a fantastic opportunity and when you leave you'll have loads of experience and a great qualification as well as the chance to go into the professional game as many of our former students have done. My message would be follow that interest if you think it's the right one for you and we'll provide you with a range of skills that will lead to a worthwhile career.
What career pathways will studying cricket at Myerscough give me?
There are a number of different career routes and you don't need to be a great player by any means. We have a variety of students on the programme. Some simply want to improve their club game or become more rounded players, while others come on the course for different reasons and who want different things from the qualification. We have some who feel their future will be as a coach or something else other than a player and that's ok. We cater for that wide range of abilities and spectrum of interests.
If you're not going to make it as a player, then careers including sport science, coaching and game development are all available and there are a broad range of jobs in this sector.
What about the progression from FE to HE?
It's an easy pathway from studying the Level 3 Btec to moving onto the foundation degree but students have clear options throughout. It's important that as a college we keep their options open – if they want to go onto university or a job that's fine but we offer that next educational step too so they can stay with us if they prefer, especially if they've enjoyed their time with us.
As a Myerscough cricket student what can I expect?
The student experience is really a great dovetailing of education and playing the game. For example in term one the students focus on the theory of fitness, strength and conditioning which relates back to practical sessions. It's all about studying in context. It's an academic course underpinned by the practical element of playing and training.
How have you found life at Myerscough so far?
The first thing I noticed when I walked in is how beautiful the campus is. I got into the sports section and discovered what fantastic facilities we have, including the sports halls, the classroom and analytical facilities, and the residential area. The people are also unbelievably friendly here. I think it's a fantastic place to be.
What would you say to prospective students who may want to join us in 2017?
We want students who have a keen interest in sport to come and experience what we have to offer. Any students interested in studying here should come to the College's Open Mornings or contact us for more information and then come and have a look around and a chat to us about their options.
The students here will always have opportunities. It's a course for people who want to learn through doing and who want to combine knowledge with practicality.
Share this article
by Dave Salmon
DSalmon@myerscough.ac.uk
Back to news