Sam is Hungary for EuroSkills success
Published

Thursday 6 Sep 2018
A Myerscough College apprentice was invited a special parliamentary reception ahead of representing Team UK in the prestigious EuroSkills event in Budapest later this month.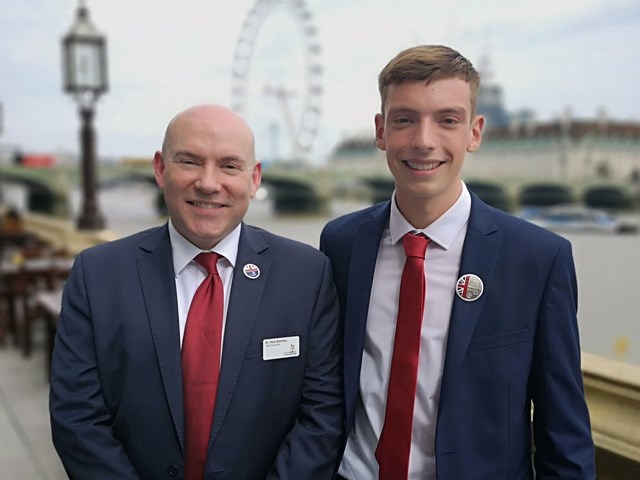 Landscaping apprentice, Sam Taylor, has been selected in a 22-person group, made up of the finest young skilled apprentices from England, Scotland, Northern Ireland and Wales, to compete at Europe's most important and prestigious skills competition. He is one of only two landscape learners in the squad.
18-year-old Sam has been undertaking his Intermediate Apprenticeship in Work-based Horticulture – Landscaping - with Myerscough College, and has been based at Garden TLC, in Oldham. Members of Team UK have all spent a minimum of two years in intensive training winning regional and nation competitions, highly intensive team selection processes, and months of accelerated training – to reach international standard.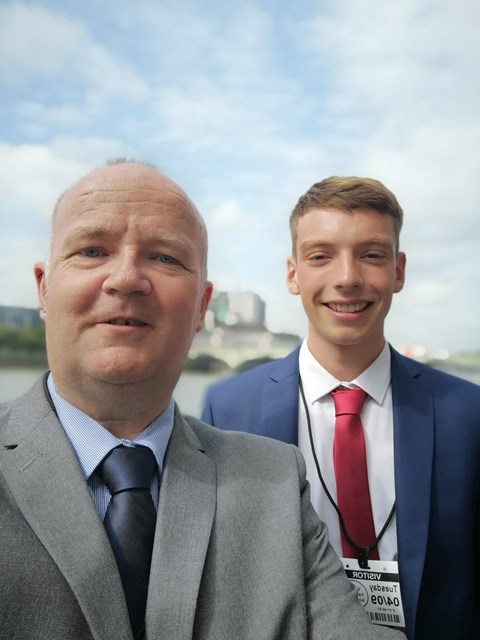 Above: Sam Taylor with Employer Services Manager, Lee Price
This week Sam attended an event at the Houses of Parliament in London, where special guest speakers, including Skills Minister, Anne Milton, CEO of Worldskills UK, Dr Neil Bentley, and Shadow Minister for Higher Education, Further Education and Skills, Gordon Marsden MP, wished the group well ahead of the competition.
Team UK heads to the EuroSkills finals in Budapest from 26th to 28th September. The EuroSkills finals, which includes teams from across Europe, is the last before the UK is scheduled to leave the EU next year. European policy makers, educators and industry partners will attend the event – along with an expected 80,000 spectators.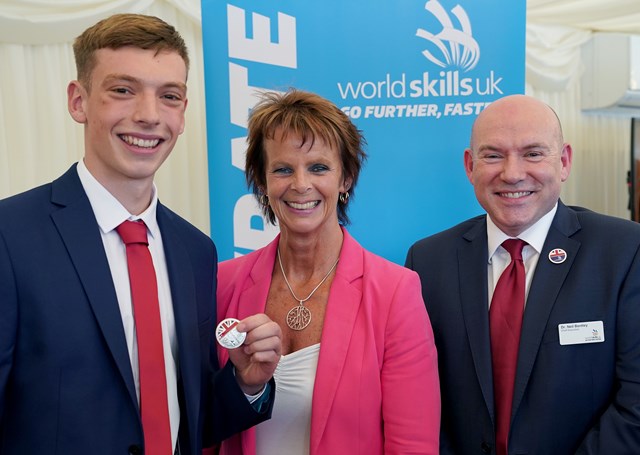 Above: Sam with Dr Neil Bentley & Skills Minister, Anne Milton
Sam Taylor said: ''I can't believe my job has led me in to the position I am in now.
''Going through all the training stages and finally finding out it's all payed off and I can't wait to be representing Great Britain against all the other countries in Europe. I couldn't be happier.''
Dr. Neil Bentley, CEO of WorldSkills UK, which selects and accelerates Team UK with intensive training, mentoring and elite competitive experiences, told those gathered on the Terrace of the House of Commons that the country is approaching a significant moment.
He said: "Team UK go and do your country proud – this is a momentous moment for our nation!"
"With Brexit now only months away, we need to benchmark our young people's skills against the best of the rest of the EU. It's only through putting our young people to the test in a time-pressured environment against the highest of specifications that we'll know whether we are developing the skills levels we need in the UK to boost productivity, compete economically and attract inward investment to help create jobs into the future. And it's through investing in our young people that we will grow these skills to the advanced levels we need."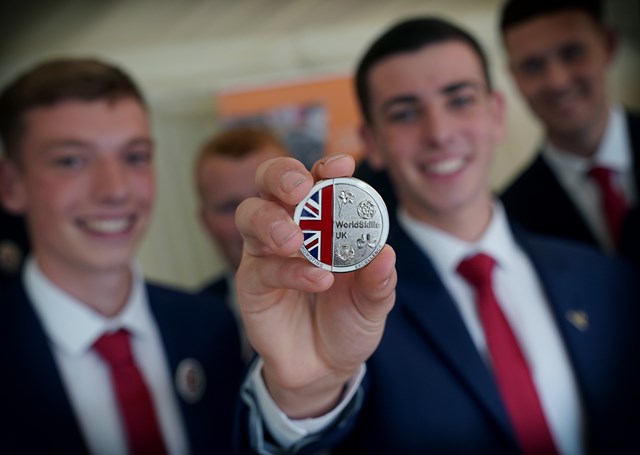 Anne Milton, Minister of State for Apprenticeships and Skills said: "You are the future, you are representing the country – and doing us proud.
"We are moving to a World where it's not about where you come from, or whether you went to university – but what skills you can offer to an employer and help them become more productive.
"Visiting the WorldSkills Competition last year was probably the most mind-blowing experience of my life. It's about endurance and fortitude – when you get there don't let anything get in your way – you are the best."
To secure a place in Team UK, the apprentices and learners have been through an exhaustive selection process, taking part in the prestigious WorldSkills UK National Competitions, the finals of which are held at WorldSkills UK LIVE, where Sam was a medallist last year in the Association of Professional Landscapers (APL) WorldSkills Landscape Gardening Competition.
Sam was also part of the Myerscough team that built the show garden that was named as the People's Choice at the prestigious Young Gardeners of the Year competition at the recent Ascot Spring Garden Show.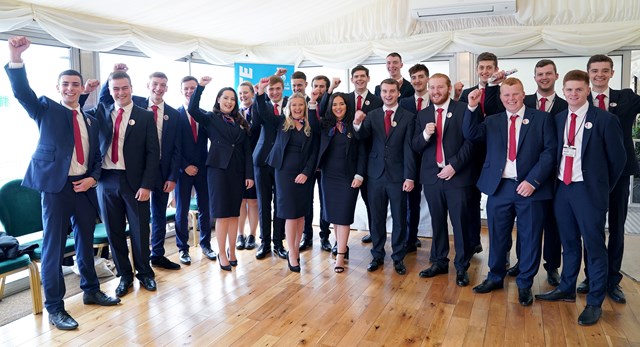 Sam is further aiming to represent Team UK at the prestigious WorldSkills event, held in Kazan in 2019. The WorldSkills Competition occurs every two years and is the biggest vocational education and skills excellence event in the world. It's known as the 'Skills Olympics'.
WorldSkills UK has been at the forefront of international skills development for 65 years through its membership of WorldSkills International, which organises the biannual 'Skills Olympics'. The aim is to change the national conversation around the prestige of apprenticeships and vocational skills, and create young medal winning, world-class, confident role models, from all backgrounds, who go on to inspire others to follow in their footsteps.
by Dave Salmon
DSalmon@myerscough.ac.uk