Portuguese dream continues for footballer Josh
Published

Wednesday 10 Feb 2016
A Myerscough College football student has returned to his roots after signing a deal with Portuguese Primeira Liga club, Academica OAF.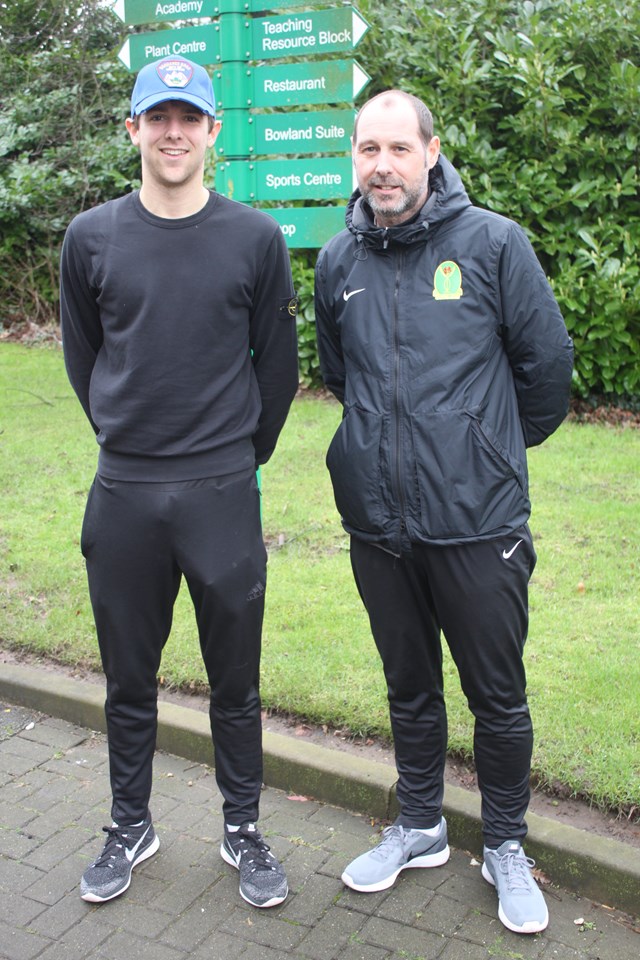 Josh Powell returned home during a mid-season break in Portugal to see friends and family and returned to Myerscough College to catch up with staff who helped him along his footballing journey so far.
Josh, from Wrea Green, completed a Level 3 BTEC Extended Diploma in Football Studies last summer. He was originally spotted by the club after being part of the Myerscough group that flew out to Portugal for the college's annual warm weather training camp last year. After catching the eye of the host's coaches, the 18-year-old was offered the chance to train with the first team squad. After a successful trial, he signed a contract.
Goalkeeper Josh says he's loving it so far: ''I've been there since early August and I'm really enjoying it. For me it's about enjoying my football and improving as both a player and as a person, I think that's important. It's been different being away from home and friends and family.
''It's a different style of football in Portugal. I'm learning Portuguese too as well as training hard and going to the gym.
Josh adds that it was tough to adapt to a different culture: ''I went through a stage of not quite believing that I was moving out here and for the first month or so it was hard to adapt to a different way of life. I'm much more relaxed about it now. I'm settled in with the lads I live with and have made friends and started to enjoy myself.
''I've had a number of training sessions with the first team. Getting to train with experienced pros is obviously great. Many of them speak good English. I've been hearing about players' experiences of playing in the Milan derby and at the African Cup of Nations. It's fascinating to hear.
''I just want to work as hard as I can and see where I'm at come the end of the season. I don't mind where I end up as long as I can follow my dream of being a professional footballer.
Head of Football at Myerscough, Phil Brown, said:  ''It's always good to welcome back former students and it's good to see Josh.
''Students who decide to come to us know that they'll get quality training and opportunities. It's up to the student to maximise that. In Josh's case he has done. He's grabbed his opportunity with both hands.
''Our extra offer means students get opportunities to learn and this gives them the taste for what to expect in the game. In Josh's case the Academica opportunity came along and he's adapted brilliantly. It's a massive challenge for him but one that he's obviously relishing.
''We have a number of career pathways available for our students once they get their qualification. The academic side of the course is very important and is main driver of our football programme. ''However the playing side goes hand in hand and we manage the two very well. Learning about things like nutrition, fitness and psychology, all adds to their overall development. The two strands compliment each other very well and it's important to remember you can't have one without the other. You study hard and play hard.''
Josh says he now has ambitions to make it in the professional game as a player: ''I want to be a pro. I need to stay positive and hope to play full time, wherever that might be. The Academica youth coaches are happy with my development as a person and as a player. But I want to improve further and be part of winning teams.
 ''I kept a clean sheet and we won on my debut recently in the Primeira Liga Youth League. I want to get myself recognised when I'm given the chance. I can't do more than that and then we'll see what happens.''
Myerscough College's Football Academy continues to be the number one choice for students, with a sector-leading reputation in delivering excellent results for students wishing to progress in a number of areas of the game, including playing, coaching, sports fitness teaching or performance analysis.
Share this article
by Dave Salmon
DSalmon@myerscough.ac.uk
Back to news