Portugal adventure for Myerscough football students
Published

Friday 7 Oct 2016
Myerscough College football students have enjoyed an unforgettable experience in Portugal, thanks to a flourishing partnership with League One club, Fleetwood Town.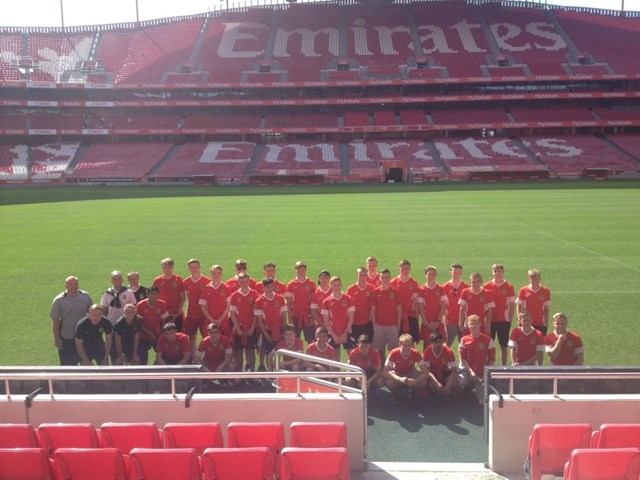 A group of almost 40 staff and students were given the opportunity to spend two weeks in Lisbon as part of an educational trip and training camp packed with activities. This included playing in several competitive games, including a memorable 1-1 draw with Portuguese side, Rio Maior SC, as well as taking part in training and strength & conditioning sessions, in addition to team building exercises and sight-seeing.
Other activities in a packed schedule for the group included a walking tour of Lisbon, an organised 'Olympics' day, and the opportunity to watch Benfica's Under-15 Academy side play Sporting Lisbon, before a tour of the club's Estádio da Luz stadium and museum, to give the students a truly memorable trip.
The tour was organised in association with Fleetwood Town's Community Trust, who provide socially inclusive community, health and education opportunities. The Trusts' emphasis is placed on educating young people in life skills, promoting self-esteem, respect, sportsmanship, social inclusion, and healthy, active lifestyles.
Myerscough College already enjoy an excellent partnership with the club, with a number of strong community links including students participating in the club's National Citizenship Service (NCS) programme as part of their enrichment activities.

Matt Hilton, Director of Community Development & Education at Fleetwood Town, said: ''Over the last 12 months, we have developed a fantastic working relationship with the College, and were only too pleased to be able to have offered students with this cultural and educational experience.''
Phil Brown, Head of Myerscough College's football development centre, said: ''The tour of Portugal was a great opportunity for the students to learn about the game in a very different environment, enjoying some great practice sessions and games in a sunny climate.''
''The facilities and other arenas the group visited are fantastic and the lads were thrilled to be able to experience them.'' 
For more details about Fleetwood Town's work within the community, go to: http://www.fleetwoodtownfcct.com/
Myerscough College's football study programmes continue to be the number one choice for students, with a sector-leading reputation in delivering excellent results for students wishing to progress in a number of areas of the game, including playing, coaching, sports fitness teaching or performance analysis.
by Dave Salmon
DSalmon@myerscough.ac.uk
Back to news