Plans well underway for Young Gardeners of the Year
Published

Monday 5 Mar 2018
Preparations are well underway for Myerscough College's entry into the prestigious Young Gardeners of the Year competition.
The Young Gardeners of the Year competition sees six of the UK's leading horticulture colleges go head-to-head designing and creating incredible show gardens for the chance to be crowned winners. The event celebrates the best of young British talent in garden design and build, and offers students a great opportunity to showcase their work to a national audience.
This year's event is being held as part of the inaugural Ascot Spring Garden Show in April, at Ascot Racecourse. With just six weeks to go, Myerscough's Level 2 and Level 3 landscape apprentices have been involved in the design and will also facilitate the build of the ambitious project.
The Young Gardeners are now tasked with creating a show garden that will capture the imagination and inspire the judges and visitors, using clever plant association and design techniques.
Computer generated imagery shows the vision of the garden, as Nick Atkinson, Assistant Head Apprenticeships and Skills – Greenspace, at Myerscough College, explains: ''After a long day at work what could be better than coming back to paradise – in your very own back garden?'
''The finished garden will be a space to relax and unwind amongst beautiful flowers, shrubs and plants and a place to admire the stunning bespoke metal sculpture. A tranquil haven, it will boast a 'living edible wall', which makes the most of every square inch of space to grow your own vegetables, allowing you to experience 'The Good Life' without moving to the country. 
''The two tiers of paving area are easy to maintain and are designed to look good all year round.  Sustainability is key in this garden, with all materials being sourced locally and with the paving draining into the rill and pond, this allows the overflow to be reused to irrigate the vertical garden.  The planting scheme is designed in such a way as not only to add colour and form to the garden but also to encourage a variety of native wildlife and insects.''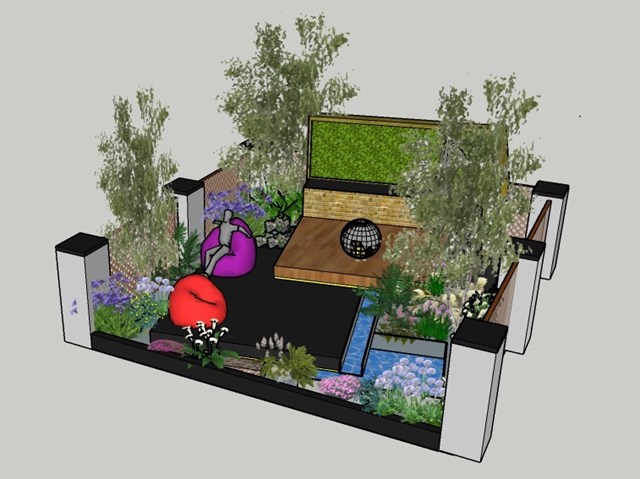 The annual competition, now in its eighth year, is organised by TV gardener David Domoney, in association with The Prince's Foundation for Building Community. This year's Young Gardeners of the Year gardens will be judged by an expert panel, which includes horticultural industry leaders, home and garden magazine editors, and acclaimed garden designers and landscapers. Entrants will compete to win gold, silver gilt, silver, or bronze awards. The overall winner will receive the Best in Show trophy, and visitors will be able to vote for the winner of the People's Choice Award.
Myerscough are competing against Capel Manor, Middlesex; Pershore College, Part of the Warwickshire College Group; Shuttleworth College, Bedfordshire; Writtle University College, Essex; and Reaseheath College, Cheshire. Each college is being given a 5m x 4.5m plot. The garden style can be traditional or contemporary, and must be a focal point to inspire homeowners and passers-by on just what can be achieved in a small urban space. The garden should appeal to the homeowner's senses; the colours and design should offer a spectacular welcome when they come home, and aim to brighten up the home owners' life.
David Domoney said: "To date we have given more than 600 garden landscaping and design students the opportunity to build gardens at a national event before they even leave the college gates.
''It's always a great privilege to see great British talent come together to compete for the title of Best Young Gardeners of the Year, and with this year's focus on front gardens, I can't wait to see them come to life.
The Ascot Spring Garden Show runs from Friday 13th – Sunday 15th April.
Tutors/Apprentices involved:
Nick Atkinson – Assistant Head Apprenticeship and Skills
James Fare – Work based Tutor – Horticulture/Landscape
Oliver Clarke – Work based Tutor – Horticulture/Landscape
Sean Attfield – L2 Diploma Landscape – Kent turf care
Sam Gordon – L2 Diploma Landscape – The Garden makers
Nathan Cross - L3 Diploma Horticulture – Fort Vale engineering
Jack Reader – L2 Diploma Landscape - Landform
Sam Taylor – L2 Diploma Landscape – Garden TLC
Adam Riley – L3 Diploma Landscape – Landtech
Share this article
by Dave Salmon
DSalmon@myerscough.ac.uk 
Back to news