Overseas adventures for Myerscough football students
Published

Wednesday 21 Jun 2017
Two Myerscough College football students are off overseas to continue their development.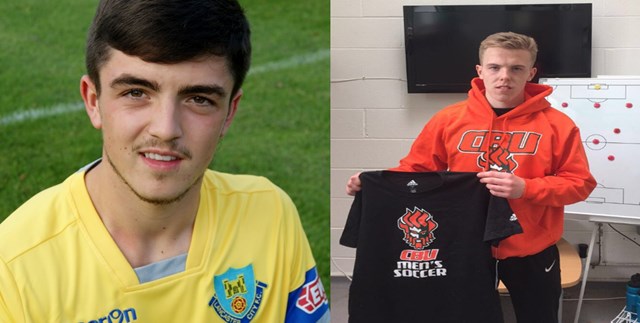 Midfielder, 18-year-old Danny Shearwood, has been on Myerscough's Level 3 BTEC Extended Diploma Football Studies programme since September 2015 and after completing his course this summer is off to Singapore to work and play and where he is hoping to impress his new coaches.
Lecturer, Dave McCann, said: ''In his first year Danny represented Myerscough College U18s Floodlit team and the ECFA U19s Category 1 squad. He consistently played well and stood out with some superb performances that led to him signing for one of the College's pathway teams, Lancaster City.
''He impressed in the games he was involved with and during the 2016/17 season he established himself as an important player in the title winning Evo Stik First Division North squad. He also played for the Myerscough/PNE Youth Development Squad in the U19s Youth Alliance League.
''He has the commitment and attitude to impress overseas and we're confident that he'll be a successful player in his new team.''
Meanwhile, striker Charlie Waters is off on a scholarship to Canada.
19-year-old Charlie is also on Myerscough's Level 3 BTEC Football Studies programme, and has achieved a scholarship to continue his football and educational at Cape Breton University in Nova Scotia. Charlie will be heading out in September to begin his sports studies programme.
His tutor, Conor Craddock, said: ''Charlie originally enrolled on Level 2 Football Studies in September 2013, and he has since gone on to successfully complete his Level 2, Level 3 Subsidiary and Level 3 programmes, providing him with the opportunity to continue his education to higher eductation level.
''During his first two years at Myerscough, Charlie represented the College playing as a striker in the U18 Floodlit and U19 ECFA Category 1 squads. This year Charlie has been a part of the successful Myerscough/Preston North End Youth Development Scheme (YDS) putting in some excellent performances in the Youth Alliance League. Throughout his time with us Charlie has impressed enough to feature for two of Myerscough's external pathway teams in Lancaster City and Squires Gate and will no doubt continue to impress during his time at Cape Breton.
''Charlie has the determination and ability to be a success both on and off the pitch during his scholarship and we're sure that he has a bright future ahead of him.''
Myerscough College wishes both Danny and Charlie the very best of luck in their future studies.
Share this article
by Dave Salmon
DSalmon@myerscough.ac.uk
Back to news