Old Trafford cricketers get plastered with new partnership
Published

Tuesday 12 Mar 2019
Myerscough's cricket students from the College's Old Trafford centre have teamed up with a new medical partner ahead of the new season.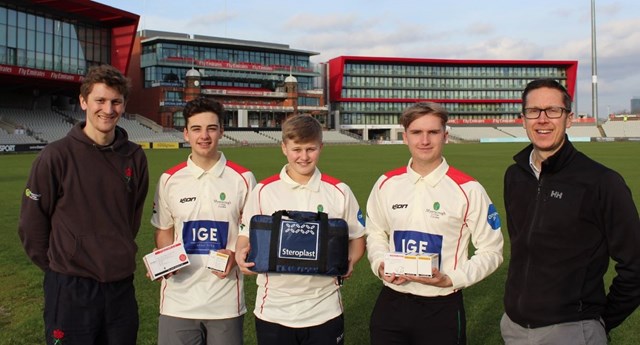 Steroplast will be supporting Myerscough, providing the kits and consumables they need for first aid and sports injury treatment. The company will provide sports medical kits, kinesiology tape and zinc oxide tape, helping the players stay safe during the games, and training sessions throughout the season.
A spokesperson for Steroplast said: ''We are very happy to announce our latest sporting partnership.
''Working alongside the staff, we will help them to keep the students safe and injury free throughout the season. We're excited to see these young players progress, hopefully, helping to create the next generation of cricketing champions!''
When asked about the partnership with Steroplast, Dan Atkinson, Myerscough's programme leader at Old Trafford, said: ''We are really excited to be able to set up this partnership with Steroplast Healthcare. We have grown considerably over the past few years and are continuing to do so. It's brilliant that Steroplast have agreed to partner with us at such a key time.
''The health, well-being and recovery of our students is vital to us, as is educating them for later life, and throughout their careers. I'm really pleased that Steroplast share those values as well and have agreed to work with us to provide first aid, rehabilitation and medical supplies. Allowing our students the best chance of preventing any injury, or speeding up their recovery.
''It's also important to us to work closely with local companies. With Steroplast being based here in Manchester, they really offer a personal and friendly touch to their service. I'm really looking forward to partnering with them moving forward.''
The photograph shows Dan Atkinson with Myerscough Old Trafford cricket students, along with Andrew Watson, Steroplast's Head of Business Development for the Sports sector.
by Dave Salmon
DSalmon@myerscough.ac.uk 
Back to news