#NAW2018 - You're hired!! RSPCA Blackpool & North Lancashire take on animal care apprenticeship quartet
Published

Friday 9 Mar 2018
As part of National Apprenticeship Week, we've been to visit some of our latest animal care apprentices, based at the RSPCA Blackpool and North Lancashire branch.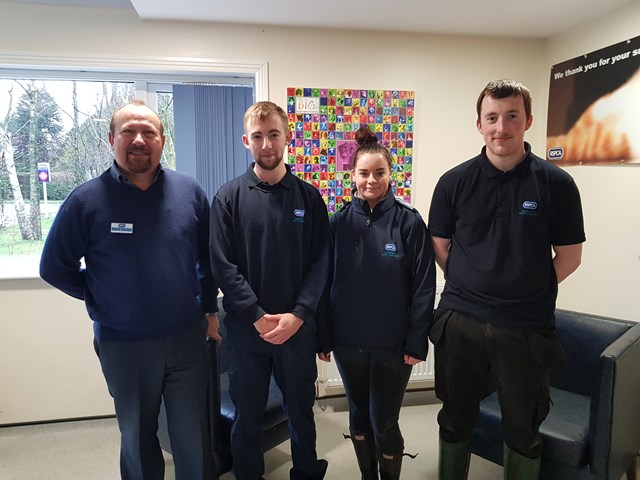 The centre, located in Stalmine on Old Toms Lane, opened in 2014 and cares for dogs, cats and a range of other small animals.
Following a very competitive recruitment which saw nearly 100 applications, Erin MacMillan, Ryan Entwistle, Ross Westby and Ella Alves were successful in obtaining these coveted positions, and a chance to train in the workplace as part of the apprenticeship partnership with Myerscough College.
The apprentices receive regular workplace visits in addition to access to a sophisticated E-Portfolio and virtual learning environment where they complete a range of knowledge assignments in between visits.
One apprentice, 22-year-old Ross Westby, took part in a short video, highlighting some of the skills needed in his new role. You can watch it here:
#MySkillsStory – Animal Care apprentice Ross at RSPCA Blackpool & North Lancashire
Ross also shared his experiences and reasons for choosing an apprenticeship: "I have always had a passion for caring for animals and when I saw the opportunity I knew I had to apply.
''For me the chance to train with the RSPCA represented the best opportunity available and so far I am really enjoying the role.
''No two days are the same and it's amazing to see animals rehomed with new owners at the end of their time with us. Once I finish my apprenticeship I hope to secure a more senior role and maybe train to become an officer in the RSPCA.
''I feel privileged to be chosen for the position and would definitely recommend Apprenticeships to other young people. They can be hard to find but you just have to keep trying until you find the perfect one."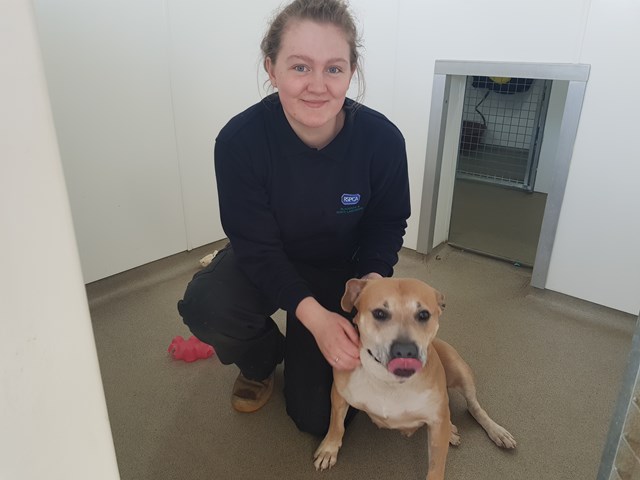 Pic: Animal Care Apprentice Erin with one of the dogs cared for at RSPCA Blackpool & North Lancashire
Martyn Tetchener, Centre Manager commented on the recruitment and training of apprentices: "Apprenticeships are a great way to bring new enthusiastic team members into our business. We were astounded with the demand for the vacancy and luckily were able to offer four people the opportunity to train and learn all aspects of animal care with us here.
''The blended approach to training offered by Myerscough College suits us perfectly and I would definitely recommend apprenticeships to other employers."
Employer Services Manager at Myerscough College shares his thoughts on recruiting apprentices, saying: "We assist employers across the country to fill hundreds of apprenticeship vacancies every year. If employers are unsure of the process, then they can get in touch with our expert Employer Services Team who will support them every step of the way.
''This service is completely free of charge to all businesses choosing Myerscough College as their apprenticeships provider."
For more information on apprenticeships or workbased training at Myerscough College please contact Employer Services on 01995 642255 or email employerenquiries@myerscough.ac.uk
by Dave Salmon
DSalmon@myerscough.ac.uk