#NAW2018 - Pitch perfect apprenticeships at Leicester City Football Club
Published

Monday 5 Mar 2018
Leicester City Football Club is the latest in a long list of Premier League Football Clubs to choose Myerscough College as their apprenticeships delivery partner.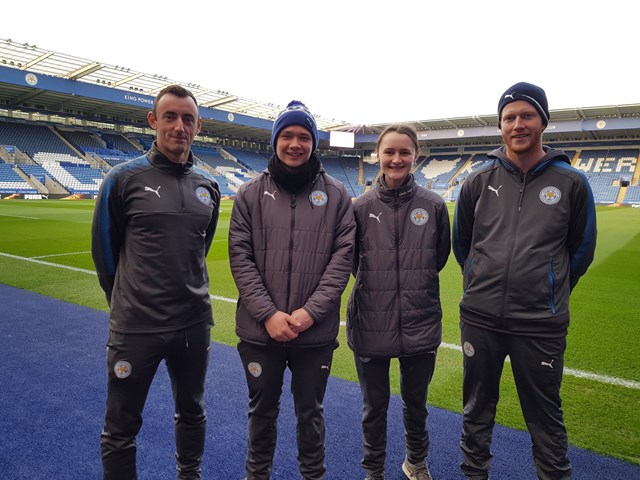 The implementation of the Apprenticeships Levy has seen the club invest heavily in the recruitment of new apprentices and also taken the chance to upskill existing staff to a higher level of competency.
We recently caught up with the team as they prepared the stadium pitch for an FA Cup fixture. As part of the day we also allowed Leah, Josh and Ryan the chance to explain why they chose an apprenticeship and what skills they are developing.
You can see their videos by clicking the links below.
#MySkillsStory Leah – Sportsturf Apprentice Leicester City FC
#MySkillsStory Josh and Ryan – Sportsturf Apprentices Leicester City FC
As part of their apprenticeship Josh, Leah and Ryan will learn a wide range of skills, and rotate across sites also working at the Belvoir Drive training complex. This ensures their experiences are as varied as possible as they learn the complexities of the job. They're supported with regular college tutor visits, technical workshops and access to a sophisticated e-portfolio and virtual learning environment, where they can log their training and complete any associated knowledge assignments. Myerscough has a proven track record in apprenticeship delivery and this blended approach has delivered significant success over the past decade.
Grounds Manager at Leicester City, John Ledwidge, shares his vision for the award winning team, and the need to be at the forefront of learning, innovation and technology: "For us it's always about a team effort. It's vital that we maintain our playing surfaces to the highest standards possible and we embrace any innovation technologies that allow is to achieve this. Apprenticeships allow us the chance to recruit new workers into our team and to shape their training to our model of excellence. The Apprenticeships Levy has allowed us to now enroll seven members of our team onto apprenticeship programmes at level 2 and level 3.
''We have also recently recruited three new team members straight onto apprenticeships. This is a significant investment from the club and allows us for succession planning and internal team development. Myerscough College come highly recommended and we look forward to seeing our apprentices develop. We have exciting plans for the future and hope our new apprentices play a big part in our future success."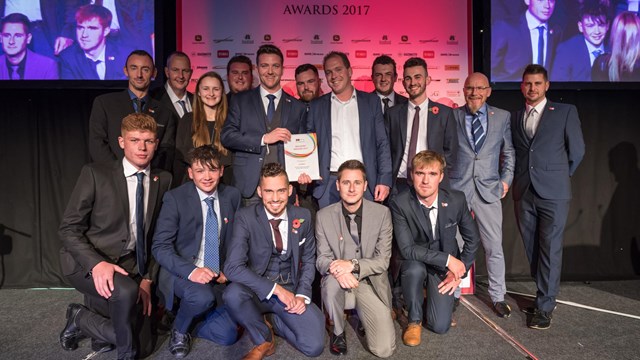 Pic: Leicester City Grounds Team with their recent IOG SGL Professional Football Grounds Team of the Year award success
Employer Services Manager at Myerscough College shares his thoughts on recruiting apprentices: "We assist employers across the country to recruit and train apprentices. It's fantastic that Leicester City have chosen us as their sportsturf apprenticeships provider and I am looking forward to seeing the journey the apprentices make as they develop in their new roles.
''If any employers are unsure about Apprenticeships, or the recruitment process, then they can get in touch with our expert Employer Services Team who will support them every step of the way. This service is completely free of charge to all businesses choosing Myerscough College as their Apprenticeships provider."
For more information on Apprenticeships or workbased training at Myerscough College please contact Employer Services on 01995 642255 or email employerenquiries@myerscough.ac.uk
by Dave Salmon
DSalmon@myerscough.ac.uk