#NAW2018 – Next generation of apprentices get good grounding at Anfield
Published

Monday 5 Mar 2018
Myerscough College was recently involved in an initiative aimed at encouraging the next generation of apprentices to follow a career in groundsmanship.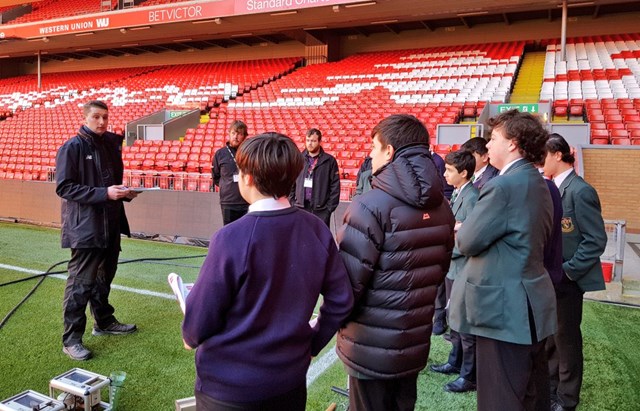 The Schools into Stadia initiative is run by the Institute of Groundsmanship (IOG), and an event at the home of Liverpool FC, Anfield, gave pupils from local high schools the chance to find out more about the profession of groundsmanship, and just what it takes to create a world-class football pitch.
Myerscough's employer services team were on hand to explain more about apprenticeships and share some of the many success stories involving Myerscough apprentices, past and present, working at Premier League and Football League clubs across the country. The group also received practical advice on how to pursue a career in the industry and explained the link between groundsmanship and academic subjects such as biology, maths, geography and technology. 
Currently Myerscough apprentices work at clubs including Liverpool, Manchester City, Leicester City, Newcastle and Everton.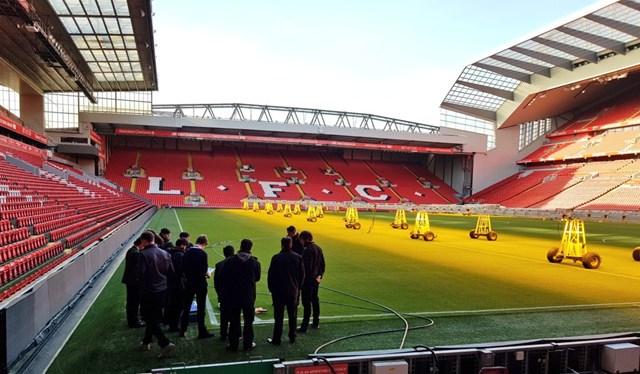 The special event introduced youngsters to the craft of groundsmanship through a one-day workshop, showcasing the profession as an ideal opportunity to work in an outdoor environment within sport. The interactive event covered all aspects of a groundsman's role, including use of equipment, pitch construction, maintenance and match-day procedure.
Pupils from three local high schools - North Liverpool Academy, Alsop High School and Notre Dame Catholic College - were invited to Anfield through Liverpool's Red Neighbours programme and were hosted by the club's ground staff together with members of the IOG's Young Board of Directors. 
Employer Services Manager at Myerscough College, Lee Price, said: ''It was great to work with Liverpool FC and the IOG to give career advice and guidance on all things sportsturf & horticulture to such a large group of local young people.
''Hopefully the evebt went some way to inspiring the next generation of turf professionals.''
David Roberts, grounds manager at Liverpool FC, said: "It's been fantastic to have the Schools into Stadia initiative here at Anfield.
"We're really pleased to be able to showcase our profession to the students and give them a real insight into what it means to be part of a grounds team." 
Geoff Webb, CEO of IOG, added: "Liverpool FC is an iconic club and the standard of sports turf at both the stadium and training grounds is world class. 
"The IOG is helping local students, aged 14 to 15, to better understand the many facets of grounds management and to encourage young people to consider a rewarding career in groundsmanship. 
"Schools into Stadia is aimed at GSCE-level students by taking the principles of sports turf management and linking it to the school curriculum. It's a great initiative and we thank Liverpool FC for hosting this event and helping to showcase careers in groundsmanship."
National Apprenticeship Week runs from March 5th-9th. 
by Dave Salmon
DSalmon@myerscough.ac.uk