#NAW2018 - Apprentice Jack is engineering a future career at Allan J Hargreaves
Published

Thursday 8 Mar 2018
As part of National Apprenticeship Week, we caught up with Jack Bates, at his workplace, Allan J Hargreaves Plant Engineers, based in Thornton.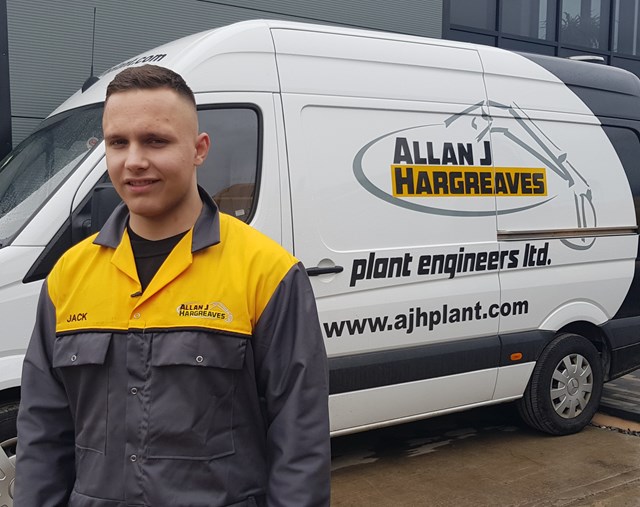 The company has a long history of apprenticeships training and Jack is the latest in a long line of apprentices who have trained in the business.
Proprietor, Allan Hargreaves, shares his apprenticeships vision: "Apprentices play a crucial role in the development and succession planning of our business.
''It's important that we move with the times and ensure our team are future proof and trained to the highest possible standards. Our apprentices work hard and are well rewarded, both financially and in the amount of importance we place on their training."
"We work in partnership with Myerscough College and CITB to deliver a programme that gives us the skills we need to take the business forward. All our apprentices have a workplace mentor and work alongside a time served, competent engineer until they become qualified.
''Many of our former apprentices now have supervisory roles in the company. They are a vital part of bringing new engineers into our sector, and I would most certainly recommend them to other businesses."
Jack is completing a three-year apprenticeship in Construction Plant Engineering, undertaking periods of block training and workbased learning until he becomes qualified.
He's also shared his story and some of the skills he has learned in a short video, that you can view here:
#MySkillsStory – Engineering Apprentice Jack at Allan J Hargreaves Plant Engineers
Jack also shared his reasons for choosing an apprenticeship: "This apprenticeship gives me the chance to have a real trade and a long term career.
''It can be hard work at times, but the rewards are equally as fantastic. Not only do I get a proper qualification and career start but I also earn a proper wage at the same time. I would definitely recommend them to other young people looking at a career in engineering."
Employer Services Manager at Myerscough College shares his thoughts on recruiting apprentices: "We assist employers across the country to fill hundreds of apprenticeship vacancies every year.
''If employers are unsure of the process, then they can get in touch with our expert Employer Services team who will support them every step of the way. This service is completely free of charge to all businesses choosing Myerscough College as their apprenticeships provider."
For more information on Apprenticeships or workbased training at Myerscough College please contact Employer Services on 01995 642255 or email employerenquiries@myerscough.ac.uk
by Dave Salmon
DSalmon@myerscough.ac.uk