#NAW2018 - Agriculture apprenticeships work at Breakneck Farm
Published

Tuesday 6 Mar 2018
It's National Apprenticeship Week, and we caught up with agriculture apprentice Jordan Baker, on a visit to see him at his workplace.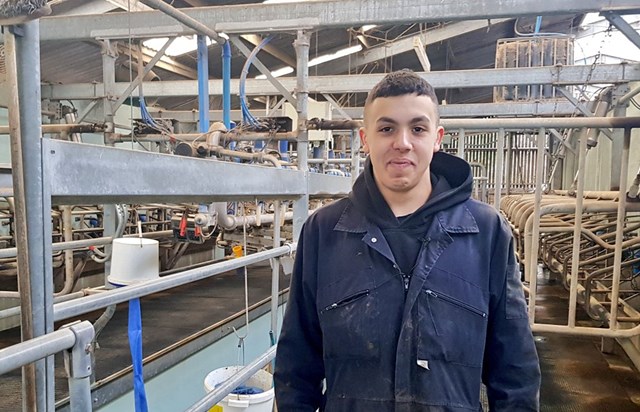 Jordan works at Breakneck Farm in Fulwood, near Preston,, under the supervision of Farm Supervisor Phil Smith. Jordan was initially on a work placement at the farm which the Rotary Club of Preston Guild helped to facilitate, and after a short period Jordan was offered an Apprenticeship in Agriculture – Livestock Production, with Myerscough College.
Farm business partner, Robert Clarke said: "Jordan initially started on placement and it became clear quickly that he had a passion for the role.
''We had never really thought of apprenticeships, but then after speaking to Myerscough College we decided to give Jordan an opportunity to join the team here at the farm. Jordan receives regular visits at work from his tutor and also attends training days at College.
''In between he uses One File E-Portfolio to log his off the job training and also to complete a series of knowledge assignments. It works really well for us and I would recommend apprenticeships to other employers as a great way to bring young people into their businesses."
Jordan shared his story and skills in a short video which can be viewed below:
#MySkillsStory Jordan Baker – agriculture apprentice – Breakneck Farm
 Jordan explained his reasons for choosing an apprenticeship: "I initially went to college full time and after a period of work placement I decided I would really like to do an apprenticeship.
''For me there was a more practical approach, I was able to get the same qualification whilst working and even better I get paid at the same time. I would definitely recommend apprenticeships to other young people looking to start their career in agriculture."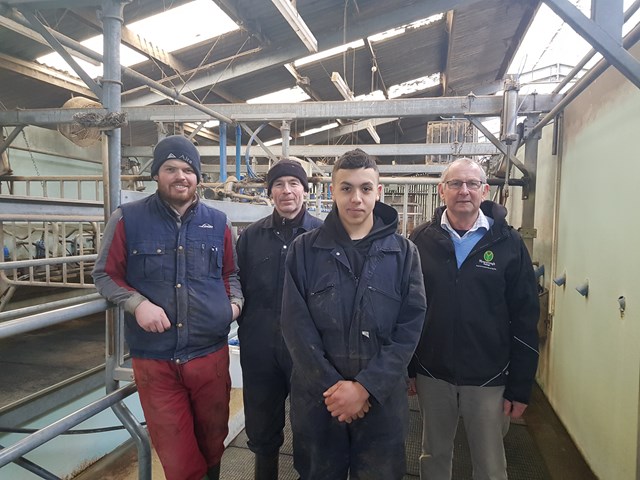 Pic: Phil Smith, Robert Clarke, Jordan with Myerscough College agriculture tutor Robert Burrow
Robert Burrow, agriculture tutor from Myerscough College, said: "This is another great example of how a work placement can lead to an apprenticeship. We work closely with a large number of employers across to region to help them access apprenticeships training. It's clear that not only does Jordan have a passion for agriculture but his employer also clearly see the benefit that the apprenticeship can bring them. I have no doubt that Jordan has a bright future in his role."
For more information on apprenticeships or workbased training at Myerscough College please contact Employer Services on 01995 642255 or email employerenquiries@myerscough.ac.uk
by Dave Salmon
DSalmon@myerscough.ac.uk