#NAW2017 – Myerscough apprentices bloom at Rhapsody
Published

Wednesday 8 Mar 2017
As part of the 2017 National Apprenticeship Week, we visited the team at Rhapsody Floral Design in Eccleston, near Chorley.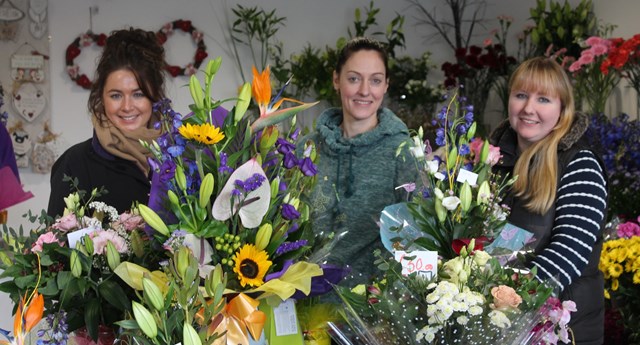 They have taken on apprentices for several years now with two starting just recently.
The ladder of success that an apprenticeship can bring is very apparent at Rhapsody, with all current members of staff having trained or are being trained as apprentices, including owner, Rachael Cook. Rachael left school at 16  and went straight into a Level 2 Floristry Apprenticeship & then progressed onto the Level 3, all while working at Rhapsody. When the owner retired, Rachael, who was now fully qualified, took over the shop & almost seven years later has never looked back.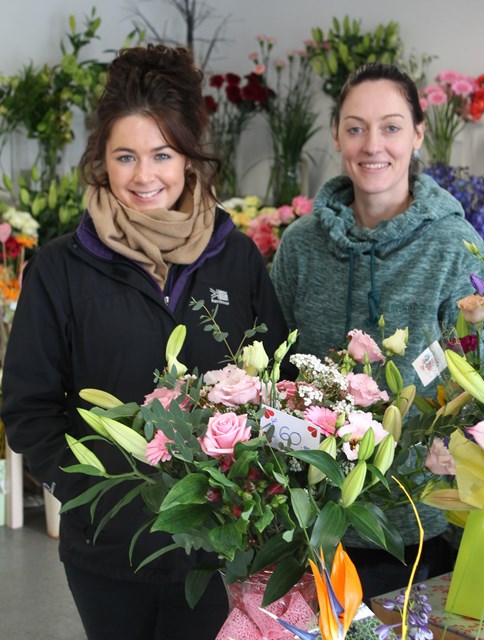 Rachael said: "Having been an apprentice myself it seemed an obvious choice to look for an apprentice when the time came to take someone on to help in the shop."
"We wouldn't be here without them. They are young & fresh minded & their enthusiasm & passion really keeps you going. The business has also benefitted from me being able to train new staff the way I want, meaning everyone is doing things the same way which really helps during busy periods when the importance of good teamwork is paramount to getting orders ready on time."
 ''I would continue to take on apprentices as and when the business allows.''
The first apprentice Rachael employed was Amber Fox. Amber started at the age of 19 on the Level 2 floristry qualification and just like Rachael then progressed onto & completed the Level 3. Five years on Amber is now assistant manager of the shop & helping to mentor two new apprentices.
When asked how she found the work-based method of learning Amber said: "It's been fantastic. You are working, earning & learning and in my opinion no other course will give you such a wide range of skills & experience that is required for a successful career in the future.
''There is no better way of learning than actually doing the job itself, being hands on everyday has been invaluable in perfecting the skills needed for this role. It is hard work but the more you put in the more you get out of it & very rewarding."
Amber has certainly seen the benefits of her hard work & commitment she is a valued member of staff who is now helping their two new apprentices, Donna Thornley & Alistair Gaskell, start on their own ladder of success.
Donna and Alistair are undertaking the Level 3 & Level 2 apprenticeships, respectively. Donna had already completed a Level 2 floristry qualification at college and was working at Rhapsody a couple of days a week when she asked Rachael if she would be interested in taking her on full time & supporting her through a Level 3 Apprenticeship, to which Rachael agreed. Just like Amber, Donna is finding the hands on approach a fantastic way to learn all aspects of the job from dealing with customers & handling cash to preparing flowers & making up bouquets.
Donna said: "Working in a busy shop is completely different to being sat in a classroom & although sometimes I felt like I'd been dropped in at the deep end I have learnt so much already.
''It's great working with someone who has been through the apprenticeship programme as they know just what we need to do & how they can support us through the qualification. In the future I would like to consider becoming a tutor myself. It would be amazing to be able to help others start their own floristry success story."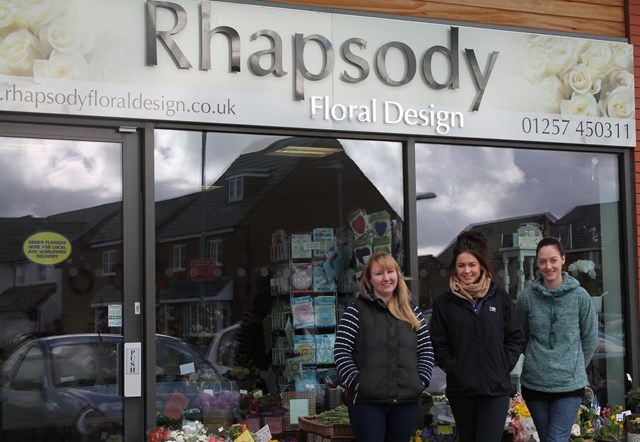 One thing that is clear from our visit is that apprentices have played a big part in the success of Rhapsody Floral Design, and the supportive team certainly help the apprentices reach their full potential & will continue to do so.
Myerscough College deliver a wide range of apprenticeship programmes, many on a national basis. For advice or more information on apprenticeships please contact Employer Services on 01995 642255 or email employerenquiries@myerscough.ac.uk 
by Dave Salmon
DSalmon@myerscough.ac.uk