#NAW2016 - Apprentices #risetothetop at Bolton Wanderers
Published

Wednesday 16 Mar 2016
As National Apprenticeship Week continues, we look the work we do with Championship side, Bolton Wanderers Football Club.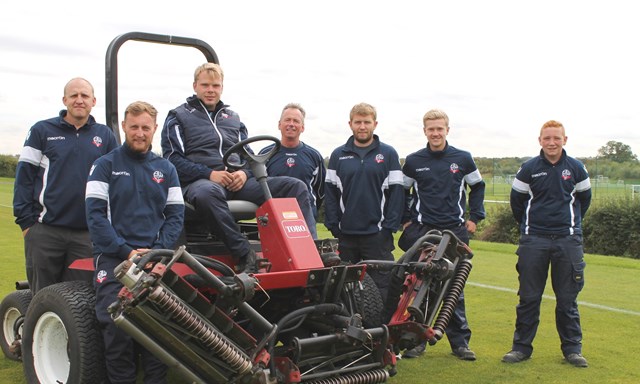 The Trotters are a prime example of an employer with systems of training, progression and succession planning fully embedded into their working practices. Myerscough College has a longstanding relationship with the club, going back decades, working closely with the team to deliver a wide range of training and apprenticeships across the workforce.
This year has been a busy one with the club working with our Employer Services Team to recruit two new Sportsturf apprentices, and also to begin the training of another member of staff working towards an apprenticeship in Land-based Mechanisation, who will be assisting with the maintenance of the machinery on site.  More impressive is the fact that current Head Groundsman, Chris Simm along with the three Site Foremen - Niall, Nathan, Nick – who have all trained in Sportsturf as apprentices or full time students at Myerscough College.
Head Groundsman, Chris, who oversees a team of around twenty staff across three sites shares his thoughts on training, development and apprenticeships and how they are key to progression within the industry: ''Apprenticeships, training and staff development have always been high on the agenda at Bolton Wanderers. It's key that at all times we can deliver a quality playing surface at all our sites, and that we stay at the forefront of new developments within the industry.
''Recruiting apprentices and young people provide us with fresh ideas and enthusiasm, and seeing them progress and develop at the Club is of mutual benefit to all parties.
"Having been an apprentice myself at the start of my career, I really hope spells out firmly to our new recruits that we are committed to seeing them develop and progress here at Bolton Wanderers and it's fantastic to think that we can inspire the next generation of Sportsturf professionals who are taking their first steps into the industry."
We asked the latest recruits to share their thoughts on apprenticeships and what made them take this career choice.
Tom Charnley, aged 18, from Chorley, started in May 2015 having previously studied Sports Development at Myerscough. He said: "I originally saw the advert on the Myerscough website and thought why not. I have always had an interest in horticulture and really enjoy working outdoors.
''I never realised at the start just how much technical knowledge is required and I am learning new things every day. We get regular visits from Chris, our tutor, who supports us with both knowledge and practical tasks. So far I am really enjoying the programme."
Another new recruit is Jack Young, aged 16, from Bolton, who has joined the apprenticeship scheme straight from high school. Jack said: "This is my first proper job. I love working outdoors and in a mainly practical way. I have had some experience working with tools and in general gardening and when I saw the job I knew it was for me.
''It's great to think I play a key part in such a big organisation. It's fantastic and I am looking forward to learning more and developing in the future. To think that my manager started out as apprentices just like me makes me 100% sure I made the right choice.
"Myerscough College Work-based tutor, Chris Tiplady, has trained around twenty staff at Bolton Wanderers. He says: "It's always fantastic to see apprentices develop, but to see one employer with former learners achieving management and supervisory level roles is exceptional, and proof to young people that they really are a good way to enter the Sportsturf industry.
''It's always daunting for young people at the start but with hard work, dedication and support from their peers our model of training can see young people develop and flourish within an organisation. Bolton Wanderers really are a shining example of how an apprentice can progress, if the opportunities are available. I am looking forward to seeing Tom and Jack progress at the Club. Having managers and workplace mentors who have been through the same process is a great position to be in."
Another area of training at Myerscough College is Land-based Engineering – Grounds Care and the delivery of apprenticeships within Football and Golf Clubs in particular is an expanding area. Bolton Wanderers are the first Football Club to develop someone in this area with Myerscough College and Zachery Gouldthorpe, aged 19, from Blackburn. He's started the Level 2 programme, which sees learners attending College on block release for a total of twelve weeks over the two year programme.
Zac, who has already achieved his Sportsturf Level 2 qualification, said: "I have always had a passion for machinery and now to be able to take my operational knowledge and combine it with the inner working of machinery is something I am really looking forward to.
''In the future I hope to be able to take on more responsibility and eventually be able to maintain and service the full range of grounds care equipment at the club. Being able to keep all the machines in tip top condition can only enhance the work of the team."
For more information on the range of Apprenticeships and other programmes at Myerscough College please contact the Employer Services Team on 01995 642255 or emailemployerenquiries@myerscough.ac.uk
Share this article
by Dave Salmon
DSalmon@myerscough.ac.uk
Back to news