#NAW2016 - Apprentices are the bees knees at Honeywells Farm Shop
Published

Thursday 17 Mar 2016
To celebrate National Apprenticeship Week 2016 members of the Employer Services Team paid a visit to some of the incredible apprentices the College supports.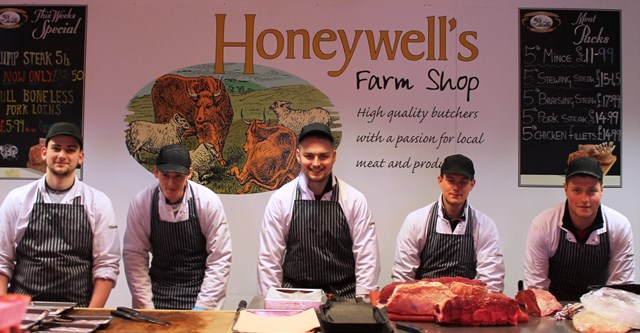 Myerscough College is one of the largest providers of specialist land based Apprenticeships in the country, and supports approximately 1500 learners across more than a thousand different workplaces in a wide variety of sectors.

These range from small businesses through to global brands particularly within the Sportsturf and Amenity Horticulture sectors where Myerscough is renowned across the globe for the quality of its provision. Many ex-Apprentices and other Myerscough learners have gone on to secure some of the top jobs within industry, a great testament to the quality of training the College provides.
We visited Honeywells in Woodplumpton to catch up with apprentices new and old who have completed Apprenticeships in Food Industry Skills with Myerscough College. Daniel Standing and Jonathan Turner have both completed Level 3 Food Manufacting Operations, and Ross Hammel and Adam Shaw the Level 2 programme in Food Industry Skills. 

Employer Services Manager Lee Price explains the visit and the range of services the college provides employers, saying; "We support so many employers with their Apprenticeship recruitment and training needs. It is fantastic to be able to take time to go into a local workplace, meet learners and employers and have a go at some new skills in the process.
''It's always a great feeling to see the fruits of our labour and to see how Apprentices are developing in their roles. National Apprenticeship Week is a great time to highlight the great work of Apprentices and also the significant benefits they provide to employers. It was fantastic to meet the team at Honeywells and to see first hand the benefits that Apprenticeships can provide.
''They are a great example to other employers of the benefits to embedding Apprenticeships into the business training and development plans." 

For more information on the range of Apprenticeships and other programmes at Myerscough College please contact the Employer Services Team on 01995 642255 or emailemployerenquiries@myerscough.ac.uk
Share this article
by Dave Salmon
DSalmon@myerscough.ac.uk
Back to news