#NAW2016 – AoC boss experiences a day in the life of an apprentice
Published

Tuesday 15 Mar 2016
As National Apprenticeship Week continues, we took the Regional Director of the Association of Colleges, Richard Caulfield, out on a day out to experience a day in the life of a Myerscough College apprentice.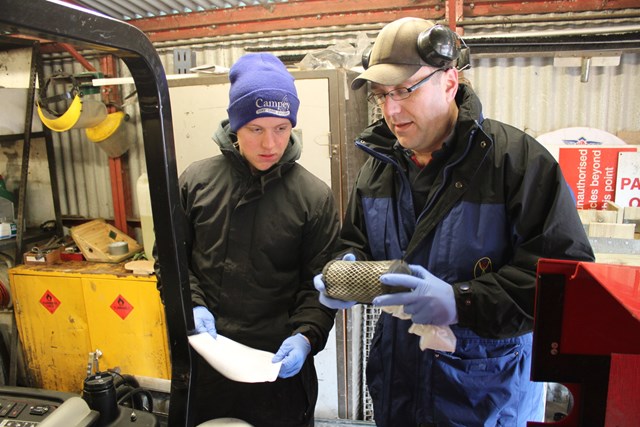 Our first stop was at Avro Golf Club, near Stockport in Cheshire, to meet apprentice greenkeeper, Wayne Atkinson, and Course Manager, Eddie Ainsworth.
Richard was shown the full range of duties Wayne has to carry out as part of his daily workload and got to experience first-hand what it's like 'on the job'. This included operating and driving a ride-on mower and sidewinder, tee renovation and turf management, equipment maintenance and the important part ecology and natural habitat plays in the daily operations of the club.
We caught up with Eddie, who said he was delighted with the progress his apprentice had made: ''I take the approach that education is everything. I'm over the moon with Wayne. When he turned up at first he didn't know very much. He's changed so much in the 8 months he's been here and I genuinely couldn't ask for anyone better as an apprentice.
''There's someone out there for everyone and it's a case of trusting the process. I think there's a lot of golf course managers that need a reality check and have unrealistic expectations of what an apprentice is about.
''It's a three-way relationship between the employer, Myerscough College and the learner. Course managers, or any other employer, will only get out of the apprentice what they put into them. I give Wayne as much of a free role as possible and he's benefitting from that.''
25-year-old Wayne is on course to complete his Level 2 Apprenticeship in Work-based Horticulture in July, 2017. Eddie says Wayne benefits from his hands-on approach: ''Not everyone wants to do this job, it's tough in terms of hours and physically demanding. It gives the apprentice a great feeling if he's working directly with the course manager rather than someone down the ladder. It makes them feel appreciated.
''In 8 months the difference in Wayne is staggering. At the end of his Level 2 Apprenticeship he'll have so much experience. I think he's well known in the industry already. That's the difference. Many organisations I speak to can't believe the level of responsibility I give him.
''Education is key in this industry but it's all about personal training and give them your time.
''Wayne makes the effort to make his apprenticeship work and so I give him everything I can. I think that's my responsibility. He's well ahead of his work. I can check on his practical and portfolio work on a regular basis. He's already signing up for other courses. Once he's completed his Level 2 Apprenticeship, I'll be talking to the committee here to extend that to Level 3.
''I take Wayne to important meetings and always try and involve him as much as I can. You can't get that experience otherwise. Wayne has been happy to get involved and the committee here have been impressed with him.''
Wayne says: ''To be honest it was a complete change of career for me. I'd been in retail for seven years and I was still living at home. At 25 I decided that I wanted to do something for me and especially something outdoors.
''I'm enjoying it. Greenkeeping was completely foreign to me when I started but now I love it. I was delighted when this came up. As well as the job and experience it's an industry recognised qualification too.
''I have great support from my family while I complete the course. I've been told there should be a job here once I qualify and hopefully the club will put me through my Level 3 so I'm as equipped as I can be for my career.''
Richard Caulfield, AoC Regional Director, said: ''It has been fantastic to get out and about to see apprentices in their workplace.  It shows how important the relationship between colleges and employers is and what great opportunities there are out there for apprentices.
''Seeing the passion of Eddie at Avro Golf Club and how that is rubbing off on Wayne was fantastic. It shows how small employers can provide exciting opportunities for apprentices and give true development opportunities. I have no doubt Wayne is set for a long and successful career as a Greenkeeper.''
Later in the day we took Richard to Manchester City Football Club's Training Academy, where he was given a guided tour of the state-the-art facility by Myerscough College apprentices, Katie Croft and Tara Massey. Katie and Tara are the only two female apprentices of their kind in the whole of the Premier League.
Richard Caulfield added: ''The experience at Manchester City was also enlightening.  It is great to see young women take on opportunities in careers often dominated by men.  Katie and Tara showed real passion for their work and a desire to progress and the opportunity to work in such an exciting environment as the academy at MCFC is the perfect start for their careers.
''What I witnessed were committed employers, enthusiastic young people and great support from one of our North West colleges. It was a privilege to see these three apprentices in their work place and I have no doubt there are thousands of other success stories just like theirs.''
by Dave Salmon
DSalmon@myerscough.ac.uk
Back to news