National recognition for Myerscough plant-hire apprentices
Published

Tuesday 21 Jun 2016
Two Myerscough College plant hire apprentices have received recognition for outstanding commitment to their work in a national ceremony.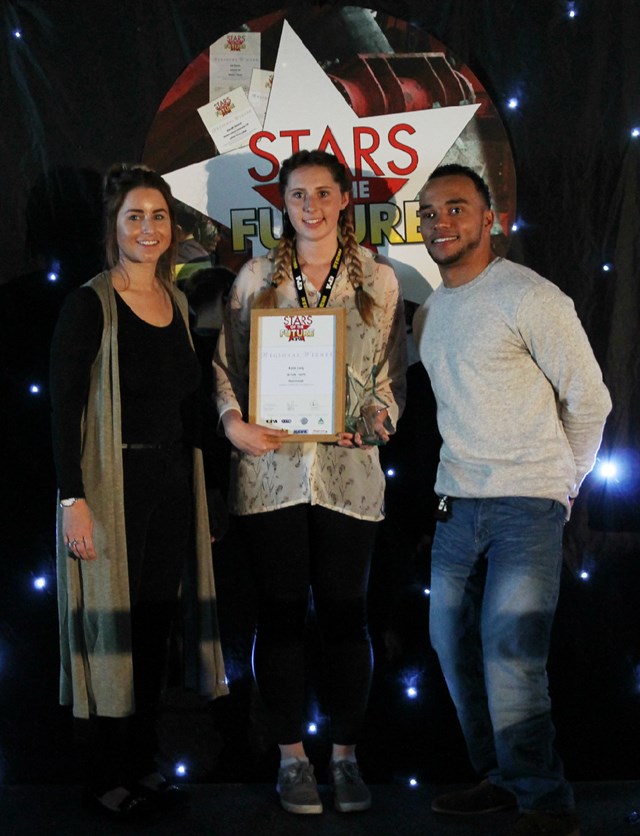 The 'Stars of The Future' Awards is an annual event organised by the Construction Plant-Hire Association, in conjunction with training providers from across the country who offer plant maintenance courses. Nominees were assessed on their attitude and quality of work throughout the year, both at their college and in the workplace. This year, there were almost 750 nominations.
Myerscough College had two regional winners.
The Level 2 winner was 20-year-old Katie Long, who works for UK Forks in Exeter, which is part of Vp Plc. She is studying for a three year apprenticeship delivered by Myerscough College in partnership with CITB.
Katie is initially studying at Level 2 and then progress onto the Advanced Level 3 programme in the final year. She will complete her Apprenticeship in the summer of 2017.
Katie said: ''For me the apprenticeship is a fantastic way to earn, learn and pave a career path within the industry.
''In the future after I qualify I would like to gain permanent employment and hopefully progress within the company. I would also like to look at higher education options and gain as much knowledge and experience as I can. I would recommend apprenticeships to other young people as a fantastic way to enter the industry.''
At Level 3, the winner was 24-year-old Daniel Fradd, from Multihog, a Darwen based plant-machinery company, where he is a Plant Maintenance Apprentice. Daniel will also complete his qualification in 2017.
Both Katie and Daniel attend Myerscough College on block release from their employer during their apprenticeships.
Daniel said: ''Other apprenticeships seem to only offer a limited scope whereas at Multihog it's clear they are planning for the future and I really want to be part of that. I hope this is the start of a long career with the company."
The awards presentation took place at Haydock Park in Merseyside, the venue for the annual 'Vertikal Days' cranes and access equipment exhibition.
As part of the ceremony, guests were treated to a talk from guest speaker, Nic Hamilton. Nic is the brother of F1 World Champion, Lewis Hamilton, and spoke about how he's overcome living with Cerebral Palsy to become a racing driver, securing a drive last season in the British Touring Car Championships.
Nic said: ''I'm the prime example of 'you can do anything if you put your mind to it.' I continuously strive to overcome the challenges of my disability. But I'm determined and have shown that it won't prevent me from achieving my life-long dream of becoming a successful racing driver.''
Haydn Steele, CPA's Training Manager said: "Nic is an inspiration to the students embarking on a career in plant mechanics. It's about realising a dream and that if you put your mind to it there's no limit as to what you can achieve.''
by Dave Salmon
DSalmon@myerscough.ac.uk