Natalie's research has horse power
Published

Tuesday 30 Oct 2018
A University Centre Myerscough equine graduate's research has been recognised after she won the BETA (British Equestrian Trade Association) Equine Thesis of the Year competition.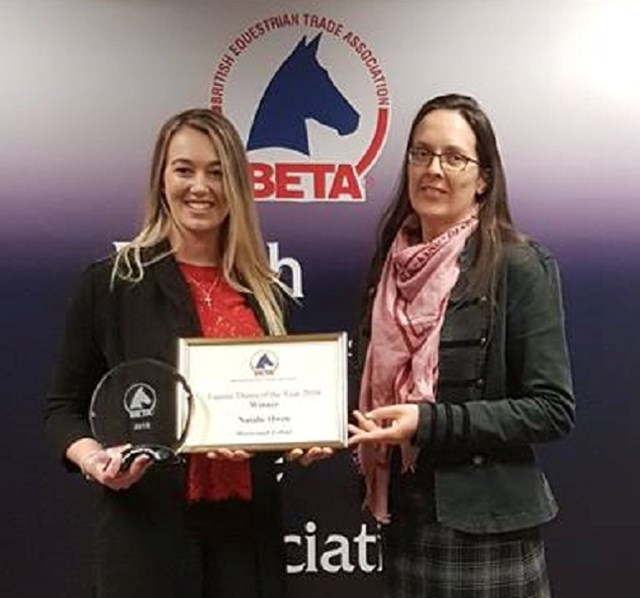 Natalie Owen's work made the final of a national competition that featured the best dissertation from each equine college in the country, which were then assessed by a panel of leading researchers and industry representatives. The top four then competed in the finals. 
23-year-old Natalie graduated in the summer with a BSc (Hons) in Equine Science. Her project investigated how owners of horses judge quality of life for their animals, introducing the idea that 'normalisation' of stabling has led to an assumption that a lifestyle of confinement can allow good equine welfare.
Natalie's project was voted for by her fellow students to represent Myerscough in the prestigious competition, where her work was chosen by an esteemed panel of scientific and industry experts as one of the four best dissertations countrywide. Twelve academic institutions each entered one undergraduate thesis.
Over the weekend, Natalie attended further judging, where she presented to a panel, before being announced as the overall winner, receiving her trophy and a cheque for £250 from Dr Georgina Crossman, chair of the judging panel.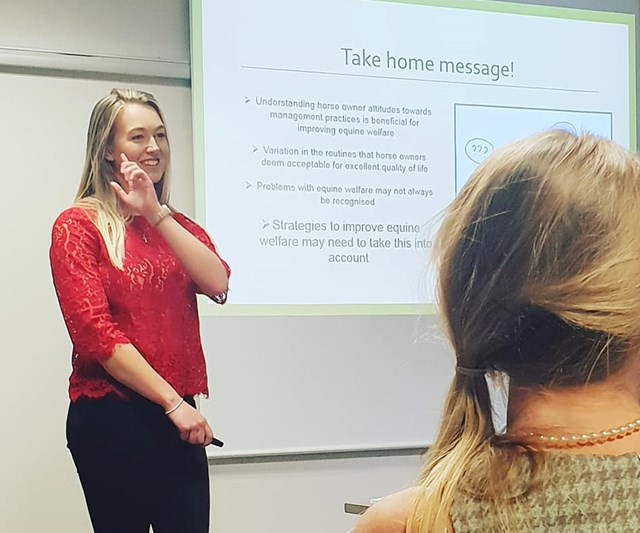 Charlotte Brigden is Assistant Head of H.E Equine at University Centre Myerscough, said: ''Congratulations to Natalie on this incredible achievement.
''Natalie gave a truly outstanding performance throughout her degree, achieving amongst the highest exam and assignment grades recalled within the equine programme.
''Natalie presented her project outstandingly and answered questions in a far superior manner to the other finalists, so we were not really surprised when she won. Georgina Crossman did tell me that the judges were unanimous in their decision which she can never recall happening in the past. 
''Natalie was also invited to join the BETA conference dinner, which was a great networking opportunity for her.  She will be presenting at our research conference on the 9th November.''
Natalie said: ''I cannot believe that I am the winner of the Equine Thesis of the Year Award! All I can say is thank you to everyone who has supported me every step of the way. What a day!''
BETA Executive Director, Claire Williams, said: ''Student undergraduate research generates a huge amount of knowledge, which thanks to the award is now brought to the attention of the wider equestrian industry.
"I am thrilled that we are able to showcase the wealth of study in this way.''
by Dave Salmon
DSalmon@myerscough.ac.uk 
Back to news