Myerscough well represented at IOG Industry Awards 2017
Published

Wednesday 30 Aug 2017
Myerscough College is once again well represented at the 2017 IOG Industry Awards, with sportsturf learners past and present nominated in a number of categories.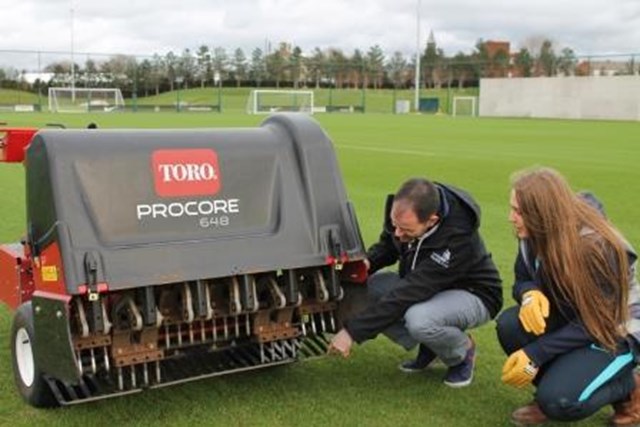 The finalists have been announced from a record-breaking entry to the prestigious Institute of Groundsmanship (IOG) Industry Awards, which are now in their ninth year. They acknowledge the passion, dedication and challenges faced by grounds staff, volunteers and professionals across all levels of sport.
Tara Massey is shortlisted in the category of Toro Most Promising Sports Turf Student of the Year. 20-year-old Tara has just completed her intermediate apprenticeship with Myerscough College, working as part of the grounds team at Manchester City Football Club.
Meanwhile, former Myerscough College learner, James Wood, is nominated in the category of Young Groundsman of the Year. James completed a BTEC in Sportsturf before joining Manchester City. In addition, Myerscough alumni Paul Burgess, who is now the Head Groundsman at Real Madrid, is nominated for a Special Recognition Award.
IOG chief executive, Geoff Webb, says: "Once again we have enjoyed a record-breaking entry to the awards, which illustrates the esteem in which our industry holds the awards.
"The judges, all of whom are groundsmen, were particularly impressed with the quality of the submissions. In fact, the standard of nominations improves year-on-year.
"Everyone who has been nominated should be recognised, regardless of whether they make the shortlist or, indeed, go on to be named as winners. It just shows the range and dedication of those working at both professional and volunteer level, day in and day out in all weathers to ensure our sports men and women, young and old, have available an increasingly higher standard of playing surfaces."
Lee Price, Employer Services Manager at Myerscough College said: "This is fantastic news for the College and we wish them all the best of luck in the final."
Tara said: "I would say to other young women interested in the industry to not be scared, do not be put off and to just go for it. It's a great job where no two days are the same, you have to solve lots of problems but you can often quickly see the rewards for you efforts."
"I am really enjoying the college side of the apprenticeship and never realised there was so much to the job. In the future I would like to progress both in my role and in my education and take things as far as I can."
The winners will be announced Oscar-style at the IOG Industry Awards dinner by host Mark Saggers from talkSPORT radio at the National Conference Centre, Birmingham, on Wednesday 1st November – the evening of the opening day of the SALTEX exhibition at the NEC.
by Dave Salmon
DSalmon@myerscough.ac.uk