Myerscough success at Tatton Flower Show
Published

Wednesday 26 Jul 2017
There was success for Myerscough College students both past and present at the RHS Tatton Flower Show.
Level 3 landscape student, Marshall Symcox, won Landscape Student of the Year, picking up a £100 prize from the British Association of Landscape Industries Chalk fund. BALI support education and training in the landscape industry and the chalk fund is a memorial prize set up to recognise student achievements throughout their studies.
Marshall will be using the money to build his tool kit ready for working in the industry. Marshall has successfully completed his first year and has a further year before entering the industry full time. Myerscough are a BALI Registered college and so both Marshall and tutor, Becky Atherton, attended Tatton to look at the show gardens, meet the BALI team and speak to designers and landscapers.
Elsewhere, Oliver Bowyer, a former Myerscough landscape student now on a Level 3 arboriculture course, was part of a team that built an award winning show garden. Oliver has worked for Warnes-McGarr & Co for the last two years. Fellow student, Rory Neale, is in his first year of study in landscape and also worked on the garden in the summer holidays to gain experience and develop landscape skills. The garden was called 'Cactus Direct: 2101' and was designed by Michael McGarr, a previous garden design student of Myerscough, to show how climate change will bring warmer temperatures to the UK, presenting new challenges for gardeners.
The garden won a gold medal, Best in Category and Best Construction awards. Michael has also offered once again to take students on work placement and will be coming to College to deliver talks on his career so far and his success in building show gardens.
You can find out more about them at https://www.warnes-mcgarr.co.uk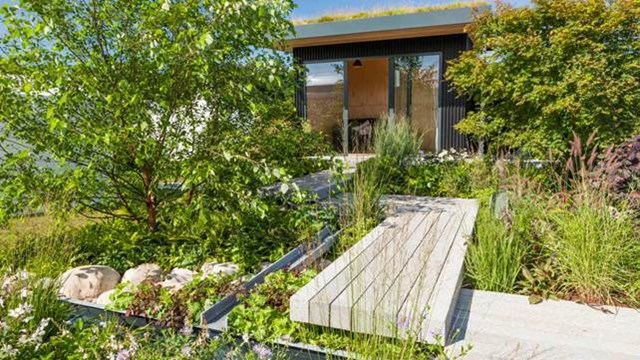 Ex Myerscough College garden design student, Belinda Belt, whose company Greenbelt Landscapes work closely with the College delivering guest lectures and workshops, won Best in Category and a gold medal for their Macmillan Legacy Garden.
And John Everiss, another ex-student of Myerscough, won a gold medal and the award for the Best Show Garden with his work called 'United Utilities Slow the Flow'. With rising water levels and run off from hard surfaces this garden was designed to display elegant methods of managing rainwater run-off.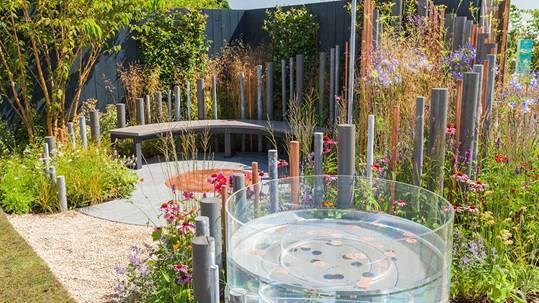 Share this article
by Dave Salmon
DSalmon@myerscough.ac.uk
Back to news