Myerscough students get hands on experience at Walton Hall & Gardens
Published

Friday 4 May 2018
A group of current Myerscough students have been getting hands on experience in animal care and horticulture at the College's soon to be completed, new centre at Walton Hall and Gardens.
In partnership with Warrington Borough Council, students from Myerscough were given the chance to pitch in at the children's zoo at the site in Warrington.
Cllr Tony Higgins, executive board member for leisure and community, said: "I was delighted to welcome the students and staff of Myerscough College to Walton Hall on a beautiful sunny day.
"The students are clearly very enthusiastic about their subjects and will give us a helping hand to maintain the iconic status of the park and zoo while also helping them learn in a real hands-on environment."
Helen Eaton, Assistant Principal of Myerscough College's Merseyside campus in Liverpool at Croxteth Park, said: "The Myerscough College students and staff have really enjoyed working with the animals in the zoo at Walton Hall.
"The park staff have been really supportive and we are looking forward to working with them on a permanent basis. The Myerscough College Centre opens in September 2019 and horticulture, animal care and foundation learning programmes will be available in the park."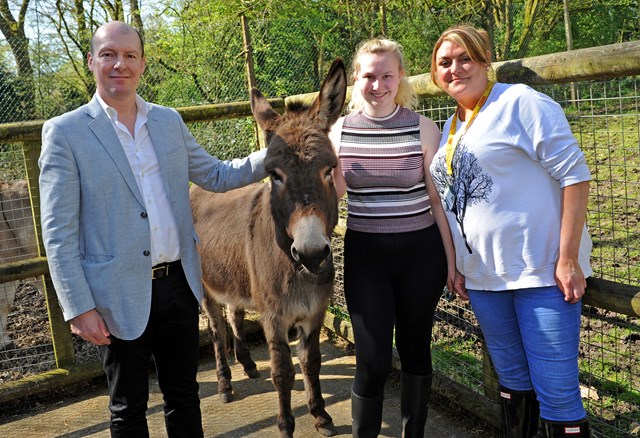 Myerscough will be based in the conservatories when they are transformed thanks to a lottery grant.
Walton Hall Gardens has been awarded nearly two million pounds from the National Lottery via the Heritage Lottery Fund to transform and restore part of the estate.
Warrington Borough Council, working with Myerscough College, along with other partners, Walton Lea Partnership and the Friends of Walton Estate, are restoring the historic conservatory and stable buildings and transforming the old buildings into a dedicated learning centre.
The Walton Lea Partnership is a charity that provides supported employment for adults with learning disabilities, mental health problems, mobility issues and early onset Alzheimers. Meanwhile, The Friends of Walton Estate is an active volunteer group who share a common belief in the value of open spaces and a particular love of Walton Estate.
Helen Eaton adds: ''We're delighted to be part of the exciting new project at Walton Hall Park. The partners have worked together for a number of years in the delivery of apprenticeships and adult education programmes.
''This is a fantastic opportunity for the people of Warrington to engage in full time education programmes in Walton Hall Park. In addition to the restoration of the conservatory and shippon areas as part of the project, the students will support and enhance the maintenance of the park within their practical sessions.''
The stable yard will become classrooms and offices, with the historic conservatory and vinery used as teaching, growing and display space. The subjects taught at the new learning centre will include horticulture and animal care, with students carrying out project work on the Walton Estate and in the Children's Zoo as part of their course.
by Dave Salmon
DSalmon@myerscough.ac.uk
Back to news