Myerscough student plays in historic first ever rugby league physical disability game
Published

Thursday 8 Feb 2018
A Myerscough College rugby student has teamed up with stars of Channel 4 show, The Last Leg, to play in the first ever rugby league physical disability match to be held in the UK.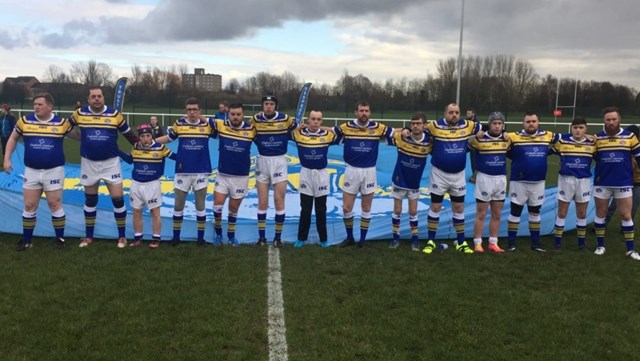 Tom Lockett appeared for the Leeds Rhinos Foundation Physical Disability Rugby League team as they competed in the UK's first PDRL game against Warrington Wolves Foundation. 16-year-old Tom, from St Helens, is currently on a Level 3 Diploma Rugby Studies programme at Myerscough College.
PD Rugby League is nine-a-side and players on each team consist of seven players with a physical disability and two able-bodied players who do not have physical disabilities. It is a running format of Rugby League which involves both full contact and touch tackle options, for all players who have physical disabilities.
Able bodied players, who play wearing bibs, are not permitted to score, kick or run more than 10 metres. The game is played over two 25 minute halves with unlimited subs, no scrums and no drop goals. It is full contact, with the exception of two players on each side wearing red shorts who are tag only.
In the game itself, Warrington were defeated 22-10 by Leeds, with Tom scoring a try. Both teams were joined by special guest players, from Channel 4's The Last Leg, Australian comedian Adam Hills, and Alex Brooker, with Alex playing for the Rhinos and Adam for the Wolves. It's hoped the ground-breaking contest will lead to increased inclusion and participation in PDRL.
Adam Hills said: "I got involved because I played Rugby League until I was 15 in Sydney. I found out last year that there were five PDRL sides in Sydney and I called them up to see how I could help, and they said nothing as you live in England!
''Warrington Wolves Foundation have been fantastic in setting this up. At our first trial session, Chris Godfrey came across from Leeds and set up the Leeds Rhinos team and that led to the first game. There has been lots of interest in the game and hopefully next year more teams will be involved and there will be a PDRL competition.''
Alex Brooker added: "I enjoyed it the game and think this is a great concept. I have never played Rugby League before and when I started doing the warm up I started to get quite concerned as I wasn't sure what I was doing, but as an introduction to Rugby League it was fascinating and it was a great game."
Andy Grundy is Course Leader in Rugby League Studies at Myerscough College and said: ''Tom has become a firm favourite amongst the students and staff, with his likeable personality and his commitment to ensure that his disability does not detract from his desire to progress both academically and with his rugby. We wish Tom all the very best for his future studies.''
The photograph shows Tom Lockett (fourth from right) lining up with Leeds Rhinos in the UK's first ever Physical Disability Rugby League game.
by Dave Salmon
DSalmon@myerscough.ac.uk
Back to news