Myerscough staff and students meet Prince Harry
Published

Tuesday 24 Oct 2017
Staff and students from Myerscough College have met Prince Harry as he visited Lancashire for a day of engagements.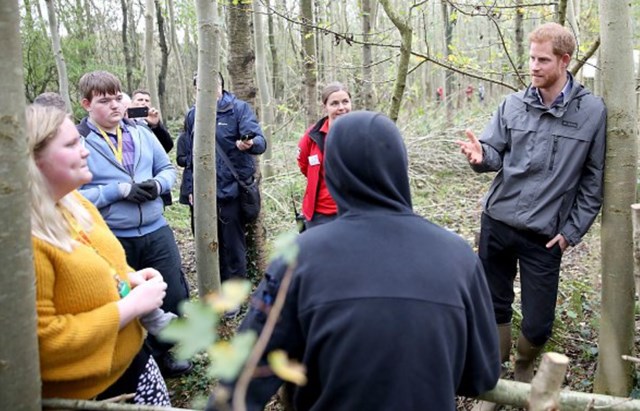 His Royal Highness visited the Myplace project at Brockholes Nature Reserve, a scheme which aims to empower young people by encouraging them to take action in environmental activity to improve areas for wildlife, communities and their own health and mental wellbeing.
Myerscough's Witton Park campus in Blackburn has teamed up with the Lancashire Wildlife Trust as part of the Myplace initiative, to promote 'eco-therapy', where the young people involved can develop new skills and increase their self-esteem therefore building resilience and self-confidence. Myerscough run weekly sessions to engage young people in tasks such as food growing, building a hedge and managing the woodland and garden, as well as engaging the students in community activities.
The three students - Connor Edmundson, Sasha Andreozzi and Rhiannon Sharpe - who are all on a Level 3 Animal Studies programme, helped to showcase the work of the project to His Royal Highness as part of a visit to the woodland where young people participated in conservation and bush craft activities. Recent Myerscough student, Katie Higham, who now works as a volunteer with the Lancashire Wildlife Trust, was also in the group.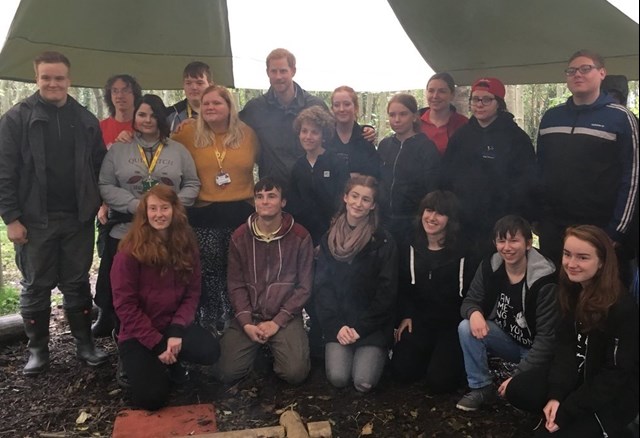 Click here to watch an interview with Myerscough student Sasha (standing on right) after Prince Harry's visit:
Earlier in the day Myerscough Vice Principal, Alison Robinson, met His Royal Highness as part of his visit to St Michael's on Wyre, in a follow up to his visit to the flood affected village in February 2016.
Prince Harry met members of the local community before officially reopening the village hall as part of a special reception. Alison was able to speak to the Prince to tell him about how the community have got back on their feet following the flood.
His Royal Highness began the day with a visit to Veterans UK, near Blackpool, to mark the 25th anniversary of the Veterans UK Helpline Service. He also paid a visit to the UCLan Sports Arena to visit the Sir Tom Finney Soccer Development Centre and the Lancashire Bombers Wheelchair Basketball Club.
Share this article
by Dave Salmon
DSalmon@myerscough.ac.uk
Back to news