Myerscough score with Fleetwood Town community partnership
Published

Monday 11 Sep 2017
Myerscough College has signed a special agreement with Fleetwood Town Football Club, aimed at recognising the growing partnership between the two organisations.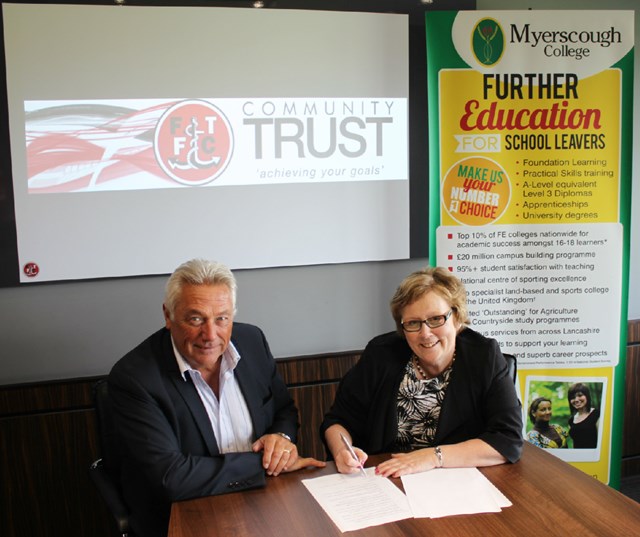 The College and the Football Club already work closely together in a number of key student enrichment activities and the new agreement sees a formalising of this partnership, which has so far benefited a number of subject areas at Myerscough and involved hundreds of students.
The main strand of the partnership is the College's involvement with the club's National Citizen Service (NCS) Programme, run by the Fleetwood Town Community Trust. NCS is an action-packed and proactive programme filled with fun and adventure, where young people take part in residential activities that will encourage them to take responsibility for their own actions and development. 

They will also have a real life opportunity to make a difference in their local community by planning and delivering their very own social action project. The aim is to equip young people with the skills and experiences necessary to boost their CV and confidence, learning valuable life skills that will help nurture their transition into adult life.
Bernard Pendleton is Director of Student Support at Myerscough College and said: "We have a fantastic partnership with Fleetwood Town FC and their NCS programme. 
"These are life changing opportunities, giving our students an ideal opportunity to have a break from their studies, trying out new outdoor activities, building their confidence, self-esteem and team building skills. 

"On return from the experience every student has commented on how enjoyable and amazing their experiences have been. They also complete community initiatives and projects and so, our local community also benefits." 
"The programme supports the ethos of the College by providing opportunities for all whilst helping learners develop social independence and confidence through a range a fun filled activities.''
 "The NCS is a great opportunity for 15-17 year olds to develop and challenge themselves in a fun and new environment.
"The partnership that has been created with Myerscough and the club will give more students the opportunity to take part in such a wonderful programme.''
The programme is a five-day full time residential week with a focus on teamwork and outdoor physical challenges, games and adventures. This includes activities such as kayaking, rock climbing, abseiling, archery and mountain biking. The second phase sees participants living in student accommodation, developing independence by managing a food budget and having a flat to maintain whilst focusing on developing new skills for work and life, before they embark on a social project.
Meanwhile the partnership has also seen Myerscough College football students enjoy an unforgettable experience in Portugal.
Last season, a group of almost 40 staff and students were given the opportunity to spend two weeks in Lisbon as part of an educational trip and training camp packed with activities. This included playing in several competitive games, as well as taking part in training and strength & conditioning sessions, in addition to team building exercises and sight-seeing.
Fleetwood Town's Community Trust provide socially inclusive community, health and education opportunities, with an emphasis placed on educating young people in life skills, promoting self-esteem, respect, sportsmanship, social inclusion, and healthy, active lifestyles.
It's hoped that there'll be three 'waves' of Myerscough students taking part in the NCS programme during the 2017/18 academic year, including a group of foundation learning students, after a successful trip earlier in the summer.
Michael Wilkinson, NCS Programme manager at Fleetwood Town, said: ''We have developed a fantastic working relationship with the College, and are only too pleased to be able to offer the students cultural and educational experiences.
''The aim is to get learners from different backgrounds to socially mix in an enjoyable environment. They take part in activities that they wouldn't otherwise get the chance to do and gain valuable life skills. It looks great on their CV as they improve their skill base in their own time.
The photograph shows the signing of the service agreement with Myerscough College Principal, Ann Turner, and Chairman of the Fleetwood Town Community Trust, Peter Murphy.
For more details about Fleetwood Town's work within the community, go to: http://www.fleetwoodtownfcct.com/
For more details about how Myerscough College students can participate in the NCS programme, click here: http://www.myerscough.ac.uk/students/student-life/ncs/
by Dave Salmon
DSalmon@myerscough.ac.uk
Back to news