Myerscough's NCS programme is gold standard
Published

Friday 8 Feb 2019
Myerscough College has been awarded 'Gold Champion' status in recognition of its strong partnership with the National Citizen Service (NCS).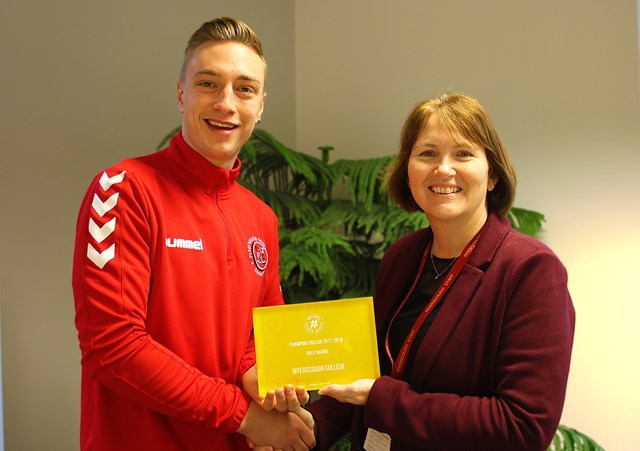 There has only been a small number of Champion Colleges gold awards that have been handed out to institutions up and down the UK, as recognition by the NCS Trust for the good work and support Myerscough College undertake for the NCS programme.
The National Citizen Service Programme aims to challenge students as well as build life skills in an enjoyable environment where students can socially mix. It's usually run over three stages.
The first phase is an activity week where students will go on a residential trip to an outdoor activity centre to take part in activities such as kayaking, rock climbing and ghyll scrambling.
The second phase is time in College where participants develop life skills, enjoy talks from different organisations and take part in different workshops such as first aid. Then in the last phase students plan and deliver their very own community project, giving them a chance to gain responsibility and independence, and have an impact on their local community.
NCS is a nationally recognised award and looks great on a CV as well as counting towards UCAS points when applying for higher education.
Myerscough has delivered the programme for approaching six years, in partnership with Fleetwood Town Football Club's Community Trust. So far, in excess of 600 young people have participated.
Michael Wilkinson, NCS Programme Manager, said: ''Over the last five years we have been successfully delivering the NCS programme to students from a range of Myerscough course's including football, sport and exercise science and horticulture, as well as foundation learners.
''NCS is a fantastic experience that looks great on a CV and UCAS personal statement, a great opportunity for students to socially mix and challenge themselves with activities they don't usually have the opportunity to try, and a chance to gain independence and responsibility planning and delivering a community project to have an impact they can be proud of.
''For a lot of the students it's the first time they've ever been away from home, and these are life changing opportunities, giving our students an ideal opportunity to have a break from their studies, trying out new outdoor activities, building their confidence, self-esteem and team building skills. 
"On return from the experience every student has commented on how enjoyable and amazing their experiences have been. They also complete community initiatives and projects and so, our local community also benefits." 
The next wave of students set to undertake the programme later this month. The NCS programme is free to Myerscough students.
The photograph shows Michael Wilkinson presenting the NCS Gold Champion College plaque to Alison Robinson, Myerscough College Chief Executive and Principal.
For more details, CLICK HERE
by Dave Salmon
DSalmon@myerscough.ac.uk 
Back to news