Myerscough's inaugural Arbor Day is tree-mendous
Published

Thursday 6 Feb 2020
Myerscough College has hosted a special day of celebration of all things trees, in an inaugural 'Arbor Day'.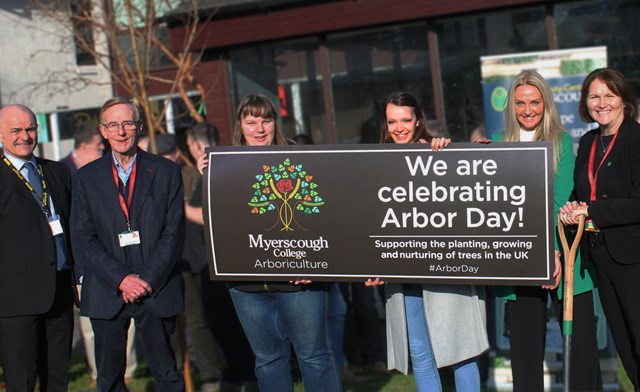 The event, supported by the Arbor Day Foundation (US) and the Mersey Forest, was a huge celebration of trees, those that work with trees (arborists), and recognition of a hugely important global industry. Although there is a UK National Tree Week, focusing specifically on planting initiatives, no official day celebrates all things arboriculture.
The day featured a number of VIP guests from as far afield as Gibraltar and Italy, major industry guest speakers, a tree climbing demonstration, as well as an official tree planting event at the centre of the College campus to mark the occasion. Work is already well underway on a new woodland area which is being created on campus, called 'Arbor Day Wood'.
The day has also received high profile endorsements from Sir David Attenborough, Dan Snow MBE, and F1 stars Jonathan and Jolyon Palmer, among others.
It's hoped that the day will now become an annual event.
The day began with a VIP reception, before an invited audience heard from special guest industry speakers including The Mersey Forest's Paul Nolan OBE, Suzanne Simmons, Trees for Cities, Sharon Durdant-Hollamby, Institute of Chartered Foresters, Jon Hammerton, Gibraltar Botanic Gardens, Ann Selby, Wildlife Trust, and Tiziano Nesi, Matteini Tranquillo Piante.
After lunch and a networking opportunity, there were further guest presentations from Observatree, Luke Fay, Tree Environmental Practice, Duncan Smith, Middlemarch Environmental Ltd, John Parker, Arboricultural Association, Wharton Natural Infrastructure Consultants, Alan Thompson, Arbtech Consulting Ltd, Christopher Wright, Tim Moya Associates, Richard Trippett, Bartlett Tree Experts, and Nick Bolton, Lockhart Garratt Ltd.
Duncan Slater, Senior Lecturer in Arboriculture, said: ''Further to a student vote in support of this idea, we wanted to celebrate everything 'arboriculture' on this day, and encourage other institutions in the UK to get involved in the years to come.
''Trees are very important for the well-being of people living in towns and cities, so we are supporting Mersey Forest this year for the work they do with local communities to achieve greener and healthier neighbourhoods.
''We started planting our arbor wood last year, and thought it would be great to have an event at the end of the tree planting season to celebrate what we've achieved.
''The other aspect is to raise awareness of arboriculture in general. People know all about horticulture, but people need to realise that the study and care of trees is just as important in all our lives. In America and Canada, Arbor Day is actually celebrated with a national holiday. I want a day off!''
Dan Lambe, President of the Arbor Day Foundation in the USA, sent a special video message as part of the celebrations: ''We are so excited to celebrate the UK's first ever Arbor Day.
''Since 1872, such an occasion has been celebrated right around the world, who dedicate this day to planting trees. It's a reminder of the importance of protecting our forests, beautifying our communities, and all that trees do for us.
''Whether it's improving our air quality, cleaning water supplies, reducing energy consumption, or providing a crucial resource for habitats, tress work hard for us every day. It's important to recognise and appreciate them as a resource for us all.
''If ever there was a good time to plant more trees, then that time is now. You should be proud to be talking this initiative. The trees you plant today will benefit people for generations to come.
''Thank you for your commitment and inspiring others to do the same.''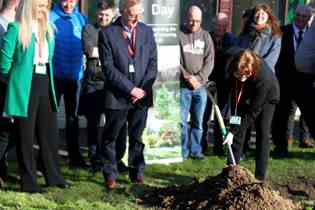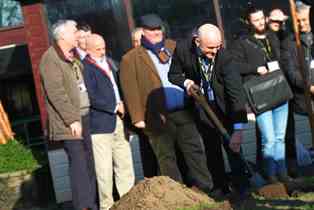 Above: Alison Robinson & Paul Nolan plant cherry trees to commemorate Arbor Day
Paul Nolan OBE, Director, Mersey Forest, said: ''Tress are an important part of the response to climate change and it's good to celebrate what groups are doing to get more trees in the ground and be involved in planting.
''We've been involved with projects with Myerscough for more than twenty years now and will continue to do so. Lots of people have spoken about having an arbor day celebration, and it's great to see it come to fruition.''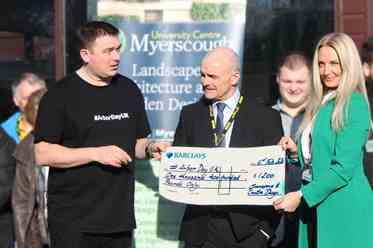 Sharon Durdant-Hollamby, Vice President of the Institute of Chartered Foresters, says: ''People don't realise how important and urgent it is to raise awareness of trees, the need to plant them and deliver good care of them.  We do everything we can to do this as an institution and as part of this day we can share the fact that trees matter and arboriculture is a great career.
''Never before has it been so excitng to work in our industry, especially given that tress are part of the climate emergency solution. It's critical for all our wellbeing.''
Thanks to the generosity of our sponsors:
Gold: Barcham Trees PLC, J.A Jones & Sons Ltd, Lady Edwina Grosvenor and Dan Snow MBE, Matteini Tranquillo Piante.
Silver: Arbor-Eco Consultancy, GreenBlue Urban Ltd, MM Arboriculture, Tracy Clarke Tree Consultancy, Tyler Grange, Woodland Trust.
Bronze: Exbury Gardens, Hilliers Nurseries, Howe 2 Landscapes & Trees, PWA Planning and Sean Roberts. 
by Dave Salmon
DSalmon@myerscough.ac.uk