Myerscough named Skills Provider of the Year at Red Rose Awards
Published

Monday 12 Mar 2018
Myerscough College and University Centre has been named Skills Provider of the Year in the Red Rose Awards 2018.
The prestigious annual ceremony at Blackpool's Winter Gardens recognises and celebrates the very best that Lancashire has to offer in terms of business, commerce and industry, promoting success, and the 'heroes' of the Lancashire economy. Organisations of all sizes from every corner of the county across a wide variety of industries were represented on the list of 150 finalists and a total of 26 winners were revealed on the night. 
In winning the Skills Provider of the Year category, Myerscough beat off very strong competition on the shortlist from other colleges and training providers across different sectors. It was the third successive year that Myerscough had been nominated.
The judges described Myerscough as a 'visionary, innovative and a world class skills provider, with developments such as the Food and Farming Innovation & Technology Centre, put the college, and the county, at the forefront of training and research.'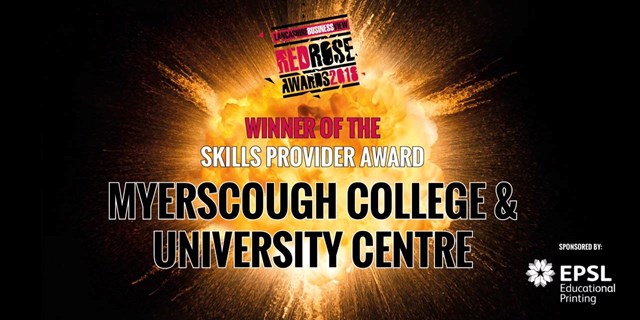 Stuart Davidson, Director of Marketing at Myerscough College and University Centre, said: ''We're delighted to be recognised.
''The award comes on the back of another year of phenomenal success for Myerscough, where sector-leading developments such as the FFIT Centre have been completed, and is among many examples of how in the past 12 months we've given Lancashire people and businesses the skills to succeed.''
Also highlighted in the award was the completion of a £30 million campus development programme, being rated in the top 10% of colleges nationwide for academic success across the land-based and sport sector, a strong Ofsted report, being officially recognised as a University Centre for higher education, becoming Leaders in Diversity, Supported Internships for foundation learners, and the host of other regional and national recognitions the College has received in the last year, including Myerscough's floristry department winning national Training Provider of the Year, in addition to a string of work-based accolades.
The journey to winning a Red Rose Awards began with a detailed written submission, where after a shortlist was created. Those chosen for the final judging stage then had to pitch and explain why they should win in 10 minutes, followed by 10 minutes of questions and answers. This detailed final judging process took place over two days and was hosted by Northcote at the Rovers at Ewood Park in Blackburn.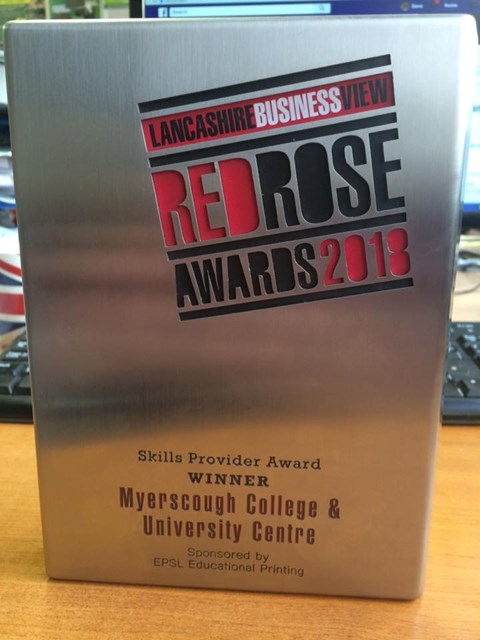 Richard Slater, publisher of Lancashire Business View and founder of the Red Rose Awards, said: "The Red Rose Awards tell the world about Lancashire. Those taking home a trophy have done great work putting the red rose county on the map.
"We pride ourselves in the in-depth way we judge the awards and the robustness and independence of the system. The finalists get to sell themselves to the judging panel, who use all their expertise and experience to ensure that we have worthy finalists and winners in all our categories.
"Once again they were knocked out by the strength, the skills, the enthusiasm and the desire to succeed, highlighting the great work being done here in Lancashire every day of the year.''
Dr John Lonsdale, director of innovation and enterprise at UCLan, judging partner for Red Rose Awards 2018, said: "This year's Red Rose Awards entries were exceptionally strong. The judges have yet again been impressed and delighted by the innovation, entrepreneurship and business excellence we have seen."
www.redroseawards.co.uk
Share this article
by Dave Salmon
DSalmon@myerscough.ac.uk 
Back to news