Myerscough motorcycle courses rev up thanks to Bowker Motorrad
Published

Wednesday 15 Mar 2017
Myerscough College's motorsport department has taken charge of a state-of-the-art new engine for use by students on motorcycle courses, thanks to the generosity of local dealer, Bowker Motorrad.
The donation of the engine will enhance the experience of both current and future students and further increases the strong reputation of Myerscough College as the number one choice for learners wishing to study motorsport.
Myerscough took their first cohort of motorcycle students into the new purpose built Motorsports Centre last year, with the current group on a City & Guilds Level 2 study programme in Motorcycle Maintenance and Repair Principles. From September, the course will run at both Level 2 as well as a Level 3 diploma.
The course is designed to give students skills and knowledge in diagnosing and repairing any type of motorcycles in a safe manner including competition motorcycles. Myerscough have tailored the course to incorporate motorsport activities and resources to provide progression into the motorsports industry.
Mark Cottom, Bowker's Group eCommerce and Motorcycle Marketing Manager said:  "We had the engine spare and it was at the end of its warranty and we knew from previous experiences that Myerscough would be able to make good use of it on their Motorcycle Studies courses.
''It's a win-win situation as we get to see the engine put to good use and the students get to be able to work on it as part of their course."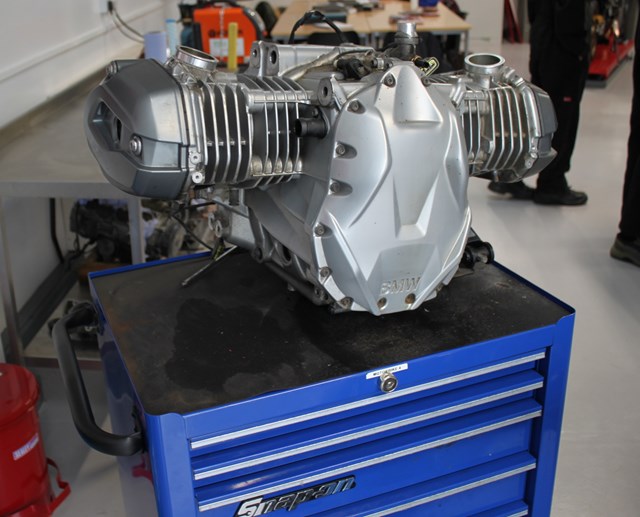 This motorcycle qualifications offered at Myerscough prepare the student to become a diagnostic technician/race technician and work in either a race team, at an independent garage, a large manufacturer or even in their own business.
In addition to its new motorcycle centre, Myerscough College has seven motorsport workshops and a number of different competition cars for the continuing development and expansion of motorsport teaching, offering hands-on experience in a wide range of motorsport events throughout the UK.
The photograph shows the formal handing over of the engine from Bowker Motorrad to Myerscough College. (L-R) – Belinda Oldham, Head of Motorsport; Steve Wilson, After Sales Manager for Bowker; motorcycle students and tutor, Ian Taylor; and Mark Cottom, Bowker's eCommerce and Motorcycle Marketing Manager.
For more information about motorsport courses offered at Myerscough College, click here: http://www.myerscough.ac.uk/courses/motorsports/
Share this article
by Dave Salmon
DSalmon@myerscough.ac.uk
Back to news