Myerscough lobby government over fair funding for FE sector
Published

Thursday 18 Oct 2018
Staff and students from Myerscough College joined a national lobby of parliament campaigning for fairer funding for the further education sector.
Colleges Week is part of the 'Love Our Colleges' campaign, to highlight the funding challenges faced by the further education sector, and to champion the work that colleges do to prepare students for university or work.
Yesterday (Wednesday), a group staff and students, led by Chief Executive and Principal, Alison Robinson, lent support to the London rally, which called on the government for better investment in colleges, and fair pay for college staff. Specifically, to increase funding for 16-19 year-old provision by 5% a year for five years, and ask the Department for Education to provide exceptional funding, similar to the pay rise given to school teachers this year.
The Myerscough party left campus at 4am to head to the capital, where they marched from The Mall, past Trafalgar Square and along Whitehall to Parliament Square, to join a rally which included speeches from Labour leader, Jeremy Corbyn and Shadow Skills Minister, Gordon Marsden, and Shadow Education Secretary, Angela Rayner. Later Alison Robinson attended a reception to discuss the issue with local Wyre MP, Ben Wallace, and Stephen Twigg, MP for Liverpool West Derby, the constituency of Myerscough's Merseyside campus at Croxteth Park.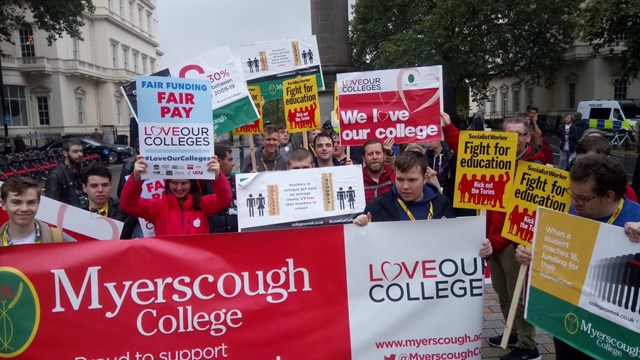 The 'Love Our Colleges' campaign is a partnership between Association of Colleges (AoC), National Union of Students (NUS), Association of College and School Leaders (ASCL), University and Colleges Union (UCU), Unison, GMB, TUC and National Education Union (NEU).
Whether it's through top-class technical education, basic skills or lifelong learning, colleges help people of all ages and backgrounds to make the most of their talents and ambitions. Rooted in local communities, they are crucial in driving social mobility and providing the skills to boost local and regional economies.
However, there is currently a reduction in education funding once a student turns 16 – whether they are in a school sixth form or a college. The campaign further highlights the fact that young people are being short-changed compared with their counterparts in other countries and compared with previous generations, in terms of matters including hours of teaching and support, the choice they have and the enrichment they are offered.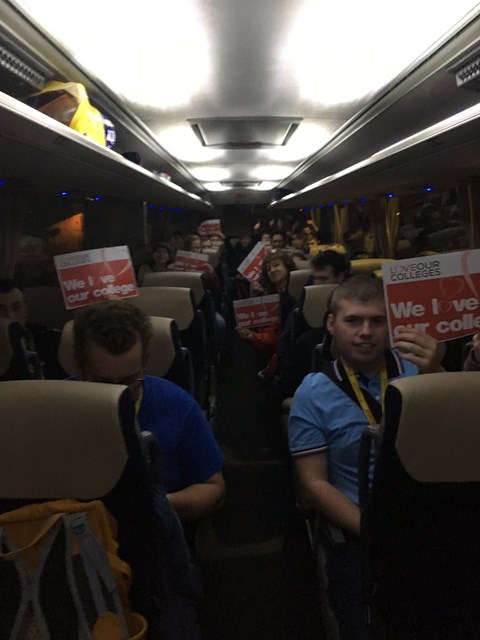 Alison Robinson says some of the statistics are shocking: ''Our Myerscough College staff transform lives – they help people make the most of their talents and ambitions and drive social mobility; they help businesses improve productivity and drive economic growth; they are rooted in and committed to their communities and drive tolerance and well-being.
''Colleges are an essential part of England's education system – educating and training 2.2 million people every year. Over the last decade, colleges have had to deal with an average 30% funding cut, whilst costs have increased dramatically. This has resulted in a drastic drop in learning opportunities for adults with 50% less students, fewer hours of teaching and support for young people, and teacher pay at less than 80% of schools and support staff in many colleges seeing no increase in pay for several years.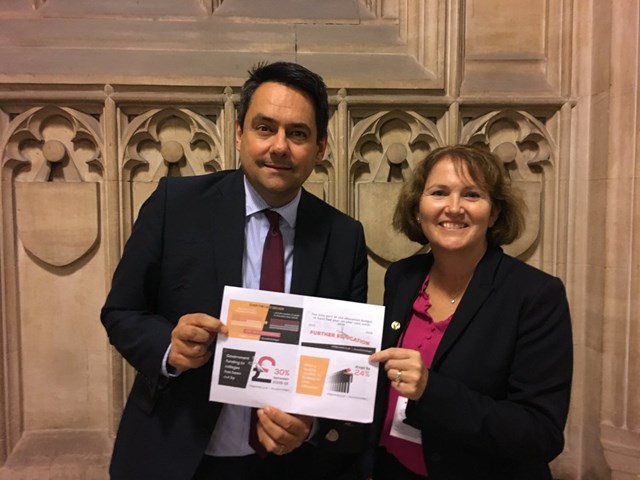 ''When a young person leaves school at 16 and goes to college the funding for their education drops by 24% despite the much larger investment needed in technical vocational equipment in colleges to deliver the curriculum. This situation is not sustainable and ultimately impacts upon staff morale, staff retention, students, businesses, communities and the wider economy.
''Many colleges are now in financial crisis and sometimes we have to take a stand for what we believe in.''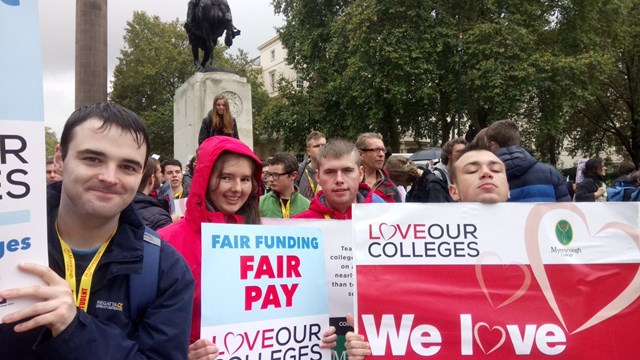 Share this article
by Dave Salmon
DSalmon@myerscough.ac.uk 
Back to news