Myerscough host national hedgelaying 'train the trainer' event
Published

Tuesday 8 Nov 2016
Myerscough College, in conjunction with the National Hedgelaying Society, have teamed up for a 'train the trainer' event with delegates from all over the country enjoying a skills top-up.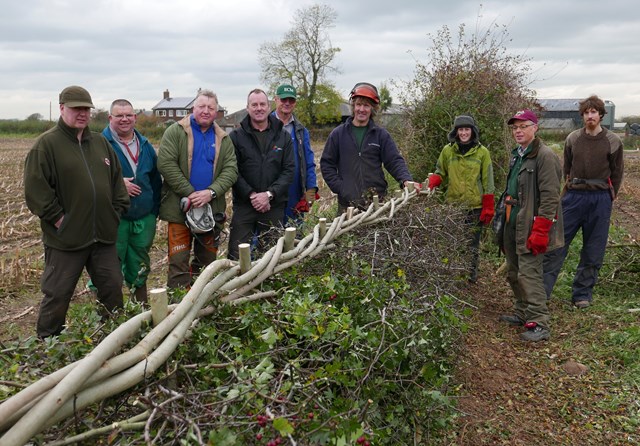 The group, which included members from as far away as North Wales, Central Scotland and Hampshire, as well as a Myerscough College member of staff, enjoyed a course specifically dealing with the Lancashire and Westmorland style.
Hedgelaying expert Damon Peacock was on hand to give guidance in the local way of cutting hedges to course delegates, assisted by Andrew Kirkwood, who has won the Lancashire and Westmorland 'Grand Prix' a number of times.
Damon said: ''The course was part of an initiative by the National Hedgelaying Society, with the help of its Patron, the Prince of Wales.  The Prince organises a competition on his own farm in Gloucestershire.
''The fundamentals of the craft are always the same, but the finishing changes. Some styles have a 'bound' top, where the stakes are tied together with wands of hazel, willow or ash, wound into a sort of wooden rope.
''There are seven competitions around Lancashire, Cumbria and the Yorkshire Dales between November and March, giving opportunities to learn this country craft.''
Hedgelaying is an ancient woodland craft that is still an essential part of countryside management today. It involves making or maintaining a hedge by weaving partly cut branches through the upright stems of a row of shrubs. It has a number of purposes including providing livestock-proof barriers, rejuvenation of existing hedgerows, weather protection for crops and wildlife and to create aesthetically pleasing screens to fields and gardens.
Head of Agriculture & Countryside at Myerscough College, Craig Thompson, said: ''Hedgelaying is a sustainable hedgerow management practice and ensures the hedgerow remains stockproof whilst offering shelter from wind and rain and maximising biodiversity benefit. It also significantly prolongs the life of the hedge.
''Our thanks to the National Hedgelaying Association, Landex and Damon Peacock for helping to organise the event. Our very own David Singleton was on the course held here at Myerscough and he'll be putting his training in practice with our students over the coming weeks.''
The photograph shows the delegates at Myerscough College.
Share this article
by Dave Salmon
DSalmon@myerscough.ac.uk
Back to news